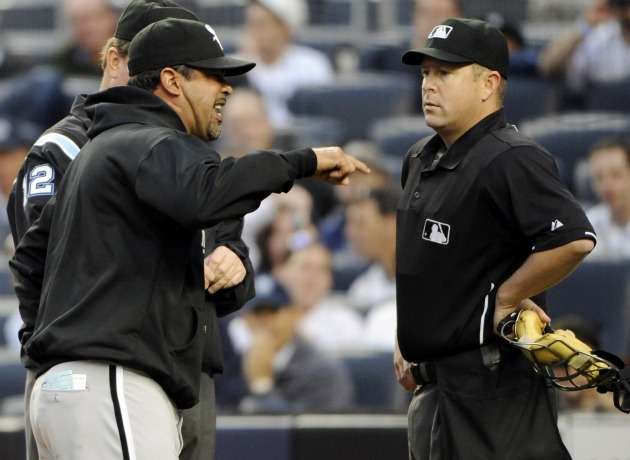 By Evan Brunell
White Sox manager Ozzie Guillen has been suspended two games for violating baseball's social media rules by tweeting his anger at being tossed from a game Wednesday. Guillen also tweeted that his rant was going to cost him money, but it costs him a lot more: two games as White Sox manager. That's a hefty price to pay, on top of being fined an undisclosed amount of money for both his specific comments and the Twitter usage. He will serve the suspension during the first two games of a four-game set against the Orioles, slated to start Friday night.
Suspending Guillen two games is rather harsh. Even a one-game suspension is odd, but new disciplinarian Joe Garagiola Jr. (who works under Joe Torre) is clearly sending a message: Stay off Twitter. MLB has a rule that social media (Twitter, Facebook, etc.) cannot be used from 30 minutes prior to the game to its conclusion. It doesn't seem to be a strict rule, as players tweet during the game, but when Guillen goes on the offensive after being ejected and blasts an umpire (a very sensitive subject in baseball, but really, there are plenty of terrible umpires who would have been fired long ago in another profession -- looking at you, Bob Davidson, and your screaming epithets), you can imagine how upset baseball was.
Guillen brought a lot on himself with this, though. He clearly knew he would be reprimanded for his actions, saying so publicly, but brushed off whatever punishment he would get. It's not surprising baseball came down hard, but will it really silence Guillen?
Probably. It's one thing to be fined; it's entirely another to be suspended for two games. That wouldn't fly for a player, and it won't fly for Guillen, especially when these same comments could have been said after the game and likely subject to only a fine. (Although at some point, baseball needs to ratchet up the punishment and send a message to Guillen that his comments in general have to stop.)
Of course, this is Ozzie Guillen we're talking about. Can anyone even silence him? Baseball is certainly trying.
For more baseball news, rumors and analysis, follow @cbssportsmlb on Twitter or subscribe to the RSS feed.