By Evan Brunell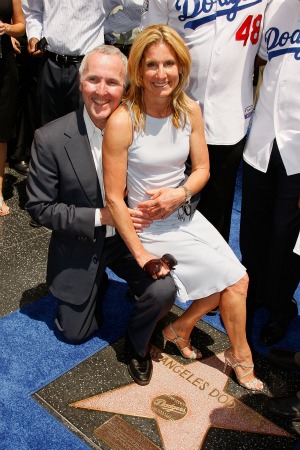 A jilted lover is not something to trifle with, as Frank McCourt is quickly finding out.
After the contentious divorce between Frank and Jamie laid bare their transgressions as Dodgers owners (using the team as their personal ATM, for instance), Frank is now grasping at straws to remain owner of the team. He has to pay his ex-wife an amount that has been reported to be over $200 million while appeasing commissioner Bud Selig. That's proven a tall task, as reflected in Selig's naming of a "monitor" to oversee the Dodgers and evaluate the finances.
McCourt took to the airwaves Wednesday to defend his position and contending that he has stayed well within the rules to remain a MLB owner. He also pointed to his impending TV deal with FOX that could net the team $300 million that McCourt says would have been put back into the team -- even offering to put that in writing. He's expressed frustration multiple times that the TV deal has not been approved by Selig, but the Los Angeles Times reports that one reason Selig has yet to do so -- another major reason being that Selig wants the Dodgers' financials evaluated first -- is because of good ol' Jamie McCourt.
Jamie told Selig that as supposed half-owner of the team, she should have a say in the matter and has not approved the deal. (While the divorce proceedings are largely over, the status as to Frank and Jamie's (picture in better days, obviously) ownership of the team remains in doubt, which is why Jamie can contend she is still half-owner. While Frank may be able to pull that off, it's still not enough to cause Selig to overlook Jamie's feelings on the matter.) While Jamie's approval is likely not legally required, as sources tell the Times, Selig would much rather have her approval to avoid any lawsuits. He already has his hands full preparing to battle Frank in court, as he has promised to sue.
Frank is alleging that Selig is attempting a hostile takeover by appointing the monitor and refusing to approve the TV deal yet. By not approving the deal, the McCourt camp alleges, the Dodgers are in danger of missing financial obligations, which could give Selig additional ammunition to push McCourt out of town.
"There has been a predetermined result here and … the investigation is not a genuine one," McCourt said Wednesday.
For more baseball news, rumors and analysis, follow @cbssportsmlb on Twitter or subscribe to the RSS feed.