By Evan Brunell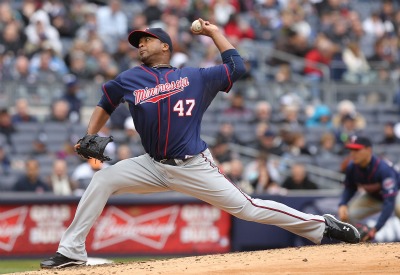 What a surprise.
After Liriano coughed up seven runs in three innings Wednesday to balloon his ERA to 9.13, the writing was on the wall: shape up or ship out.
We've been talking about our options with him, and the first option is trying to get him right and relaxed out there," manager Ron Gardenhire said of Liriano to 1500 ESPN Friday. The left-hander seemed on the way back to 2006 levels after injury and ineffectiveness sapped two years of his career. Last season, Liriano posted a 3.62 ERA in 31 starts, but so far this year has given up 27 hits and four home runs while walking 18 against just 18 strikeouts. That's a recipe for disaster, and the Twins have begun thinking about alternatives as the 27-year-old just can't seem to get anyone out.
"There's times when he looks totally dominant and he'll go an inning or two like that, but then he just kind of starts misfiring, and I think once we get ahead he just kind of backs away a little bit. So, if it's a confidence thing, then we've got to really work hard to get it there, but if not, we're going to have to make a decision and see where we go from there," Gardenhire added.
Minnesota has already started preparations, as the club is stretching out Kevin Slowey. Slowey, a former starter, was shifted to the bullpen to begin the year but quickly went down with a shoulder strain. He's been working his way back since and will throw 65 to 70 pitches in his next rehab start before returning to the roster. That will allow Liriano another start in Chicago against the White Sox to prove himself. If he can't, Slowey will likely step into the rotation.
"It hasn't been good," Gardenhire said. "I keep talking with [pitching coach Rick Anderson], and Andy says he believes there's a lot of confidence missing in there. I know Frankie said he just couldn't feel the ball the other day. But the other guys are throwing the same ball in the same weather, and he's misfiring pretty much a lot this year."
For more baseball news, rumors and analysis, follow @cbssportsmlb on Twitter or subscribe to the RSS feed.