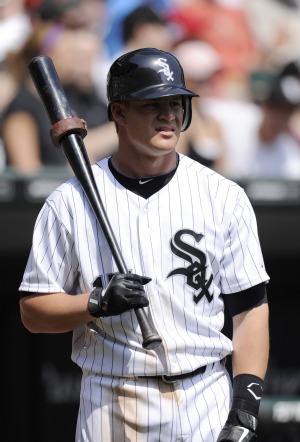 By Evan Brunell
Gordon Beckham is supposed to be one of the best young hitters in the game.
Instead, as he begins his third season, the 24-year-old is a frustrating enigma, prone to massive bouts of streakiness. Beckham was the eighth pick of the 2008 draft and was one of the first early success stories of that crop as he appeared in 103 games the following year for the White Sox, hitting .270/.347/.460 with 14 home runs in 430 plate appearances, finishing fifth in Rookie of the Year balloting.
Primed for a full season in 2010, many predicted Beckham's breakout as an impact player. That happened, but it took until July. Before the All-Star Game, Beckham struggled with a .216/.277/.304 line, which is absolutely putrid and certainly cost the White Sox quite a bit of production out of that spot. But the light finally went on, and Beckham hit .310/.380/.487 after a scorching July and August. His OPS dipped all the way to .497 in September, but also played in just 13 games that month due to complications after being hit on the left hand by a pitch.
Entering 2011, the thought was, again, that Beckham would be primed to bust through with a season putting him on the map.
Uh, not so fast. Beckham has kicked things off with a .200/.247/.311 line. But even that doesn't tell the full story, as Beckham followed up a strong spring training with an 11-for-31 start, as the Chicago Sun-Times reports. Since then, Beckham is 4-for-43, which works out to a .119 batting average.
"He's going to have to fight through it," hitting coach Greg Walker said. "There's no answer for his mechanics. His swing is his swing. It's going to work against all types of pitching.
"He's swinging at a lot of pitches out of the zone. He's frustrated. He's getting himself out a lot. I'm not making an excuse for him because he's too far down the road in his career. He's not dealing with failure real well. He's a tough kid, but mentally he's in a funk, and he has to fight his way through it."
It's certainly not good news that Beckham is struggling with the mental aspect of it all, especially after he's already fought his way through one debilitating slump. With over 1,000 plate appearances in the majors to his name, Beckham should be gaining confidence and experience to the point where he should be able to mentally work through his troubles.
Since Beckham has already been there, done that and the White Sox are in crisis mode trying to scrap a win where they can, the leash on Beckham won't be as long as it was last year when he continued to receive regular time until he finally got hot in July.
But who could replace Beckham? Omar Vizquel is not a full-time player at this stage in his career, and utilityman Mark Teahen has only three career games at second base, all coming in 2009 for the Royals and Brent Lillibridge belongs in a backup spot, defensive gems notwithstanding. If Chicago was to demote Beckham to Triple-A and get his head screwed on straight, the ChiSox would only have Travis Dawkins as an acceptable recall to the majors -- and Dawkins is a 31-year-old minor-league lifer.
It seems as if the White Sox are stuck with Beckham. That's not a bad thing, as he's an All-Star second baseman when right. The only problem is getting him right.
For more baseball news, rumors and analysis, follow @cbssportsmlb on Twitter or subscribe to the RSS feed.