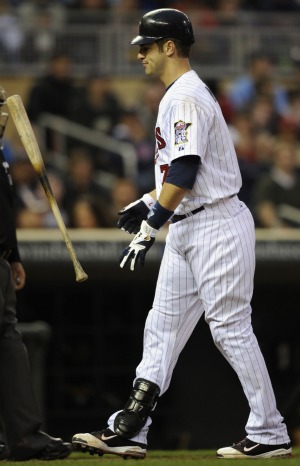 By Evan Brunell
There's good news and bad news about Joe Mauer. Which do you want first?
OK, there's no way for you to respond, so let's get the bad out of the way. Mauer still isn't close to coming off the disabled list after losing 15 pounds thanks to a viral infection. He's also had to deal with a curious ailment that has sapped all strength from his legs.
The good news? "It feels like I'm finally turning a corner," Mauer told the Star Tribune. Any progress is a good sign for the catcher, despite lack of baseball progress -- that is, no catching, hitting or running has taken place yet.
"He's still in the strength phase of his program," head trainer Rick McWane said. "He's getting stronger, he's feeling a lot better, he's improved his flexibility, improved his strength in his legs, his upper body, his shoulder, his elbow -- everything's getting stronger."
The 2009 MVP's health problems to date and sheer size (he's listed at 6-foot-5, 235 pounds) have caused some to wonder if Mauer should stay behind the dish.
Of course he is, for a multitude of reasons. For one, the Twins don't have anyone near capable enough of stepping in the lineup full-time behind the plate, accentuated by last season's trade of Wilson Ramos to the Twins. Second, Mauer still has yet to turn 30, lending some optimism that he can remain a catcher for a few more years. Mauer's $184-million contract is valuable if he produces out of the catcher's spot but when you transition him to another position, that contract takes a big hit.
"I just think I can help the team a lot more behind the plate," Mauer said of switching positions. "That's what I signed here to do is catch. I think we're a better ballclub when I'm behind the plate."
Sure, the Twins are better when he's catching, but at what cost does that come? Mauer underwent offseason arthroscopic surgery on his left knee which set him back in spring training, then the virus arrived along with leg weakness. His bat is too valuable to leave out of the lineup, even if it means a position change.
"He wasn't strong enough to handle everyday catching," McWane said. "It wasn't a matter of his knee not being ready, he just didn't -- I don't think -- have the repetitions, catching or in anything else. Once the season started, he started to wear down. Then he got sick on top of that. ... So it was just a perfect storm of several things that happened at same time."
Before Mauer can assume his duties, however, the leg issue has to be addressed. The virus has been ruled out as a cause of his leg weakness, as McWane said, along with several other possible causes. One thing that's for sure is that Mauer can't play through it, as he tried to do in spring training.
"I thought I got myself to a point where once we got to the season, my legs would continue to get stronger and get to where I needed to get to," he said. "And it just kind of went the other way."
For more baseball news, rumors and analysis, follow @cbssportsmlb on Twitter or subscribe to the RSS feed.