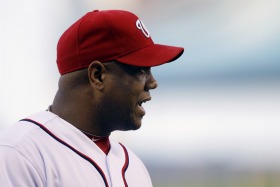 By C. Trent Rosecrans
Livan Hernandez
is one of those players that never seems to stop thinking. He'll do anything -- and try anything -- to win. On Thursday, he not only did that on the mound, throwing a 53 mph curveball for a
Jason Bay
groundout, but also with the bat.
With runners on first and third and one out in the fourth inning, Hernandez laid down a bunt that didn't go as far down the first-base line as he wanted for the squeeze. So instead of trying to leg out the bunt, he stutter-stepped and basically blocked Mets catcher Josh Thole from fielding the bunt. By the time Thole got past Hernandez, turned and tried to tag Jerry Hairston Jr., Hairston had already scored.
"I've done that play before," Hernandez told MASNSports.com's Ben Goessling after the game. "This the way I do it -- when the ball doesn't go too far, you've got to wait, so the catcher doesn't catch the ball fast and throw the people out more easily, or make the out at home plate. I did it last year, too."
When asked if he was worried about interference, Hernandez said he wasn't.
"No, because I'm the runner," he said. "[If] the guy pushed me, I can't get ouf the box like that. If he hits me, I'm going down and maybe it's the catcher's mistake."
It's a brilliant play and well within the rulebook. Even if it were against the rules, it wouldn't be hard to believe Hernandez just isn't very fast or had little reason to run hard out of the box.
As for Wednesday's reports linking him to a Puerto Rican drug dealer, Hernandez dismissed those following the game.
"We're good. We don't have a problem. I'm going to let you know one day," he said. "Whatever came out in the papers, if they do not say the truth, it's OK. I can't do nothing when something came out. I can't do nothing."
Hernandez picked up the win, pitching eight innings, allowing three runs (two earned) on seven hits, with five strikeouts and a walk. He's now 3-2 with a 3.23 ERA on the season.
For more baseball news, rumors and analysis, follow @cbssportsmlb on Twitter or subscribe to the RSS feed.