By C. Trent Rosecrans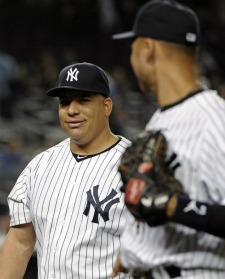 Admit it, you laughed too when the Yankees signed Bartolo Colon. Colon, Freddy Garcia, Kevin Millwood -- it was like the 2005 All-Star team all over again.
Except, you know, Colon has been pretty darn good.
On Wednesday, Colon went eight innings, allowing just a run on seven hits, while striking out six and walking one. His ERA is down to 2.77 on the season.
Colon, 37, averaged 93.25 mph on his four-seam fastball and maxed at 96.1 mph and only needed 99 pitches to hand the ball over to Mariano Rivera.
"Colon was amazing. Colon was, wow!" White Sox manager Ozzie Guillen told reporters (via the Associated Press) after the game. "I don't remember seeing him throw that good in Cleveland or when he was pitching in Anaheim. I had a good opportunity to watch the game [on] TV. It was amazing how that ball had a lot of movement."
The Yankees started with Colon in the bullpen, but with Phil Hughes on the shelf, Colon came out of the bullpen to start. Last Wednesday he went 6 2/3, allowing two runs on five hits to pick up the win. He made three relief appearances before getting his chance to start, but has been noticeably better as a starter and he'll certainly get his chance to continue starting.
Colon won the Cy Young in 2005 with the
Angels
, but has struggled with injuries the last couple of seasons. Even his manager from last season, Guillen, joked before Wednesday's game about Colon's injury problems. And then Colon went out and pitched into the eighth inning for the first time since 2007.
"You really just want him to continue to keep making pitches like he's been making them," Yankees manager Joe Girardi told reporters after the game (via Bergen Record). "He's already had great location of the fastball. And he's been extremely effective."
He has, and it's just more good news for the Yankees.
For more baseball news, rumors and analysis, follow @cbssportsmlb on Twitter or subscribe to the RSS feed.