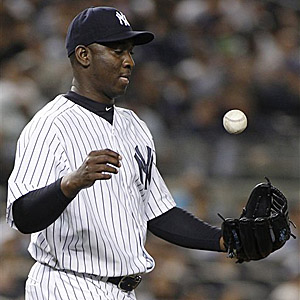 By Matt Snyder
Rafael Soriano
is the big topic of discussion Wednesday for
Yankees
fans and the New York media alike. Not shockingly, considering his line thus far in the season, it ain't pretty.
Soriano blew a four-run lead April 5, nearly blew a three-run lead on April 16 and lost the lead completely Tuesday night to the
White Sox
on a
Paul Konerko
two-run homer. He's got a 7.84 ERA, 1.94 WHIP and has walked eight hitters in 10 1/3 innings. This is coming off the heels of a season where he was one of the most dominant closers in baseball, racking up 45 saves on a 1.73 ERA and 0.80 WHIP in 62 1/3 innings. And how about this one? He only walked 14 guys all last season, so he's more than halfway there already.
What's worse is Soriano's attitude doesn't seem to be winning anyone over. He refused to talk to the media after the April 5 debacle, something that infuriated the writers. If you do a Twitter search for Soriano's name, it's chock full of Yankees fans saying he doesn't appear to care.
After Tuesday night's game, Soriano expressed his frustration.
"It has not been easy for me," Soriano said. "I've tried to figure out how to do the same that I did last year. I've been struggling right now, but I'll take it, forget all that tonight, come back and find out." (
Metro
)
Mike Francesca, famed New York sports-talk radio personality, is letting Soriano have it today, according to many New Yorkers on Twitter, including saying he'll "draw pictures" to help Soriano figure out how to get outs. Which is weird, since Francesca has never recorded a big-league out himself.
There also seem to be problems with Soriano not being a New Yorker, as he's describd an immature "out-of-towner" in one outlet (
Staten Island Live
). And there are many who definitely believe Soriano should be removed from the eighth-inning role immediately. (
New York Post
)
Honestly, I tend to agree with removing Soriano from eighth-inning duties for the time being, just to let him get his head clear and find some success in non-pressure situations. It's no secret some players aren't used to the pressure that comes with playing for the Yankees from both the fans and the press. When he's being piled on in addition to possibly having lost a bit of confidence, the Yankees should find a way to get that back.
Joe Girardi does have an option or two.
David Robertson
is a very solid back-end of the bullpen pitcher. He's a hard-throwing, high-strikeout guy. He's yet to allow a run in 2011 through 8 1/3 innings. He's struck out 10 and only walked two.
Joba Chamberlain
has done the role before and has 12 strikeouts to only three walks, though he's been knocked around a few times by opposing hitters. Not as much as Soriano, so he's a better option.
But Robertson seems like the best eighth-inning option for Girardi at this point for everyone involved, most of all Soriano.
For more baseball news, rumors and analysis, follow @cbssportsmlb on Twitter or subscribe to the RSS feed.