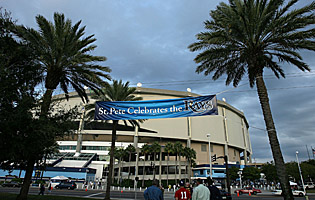 By Matt Snyder
Don't let the name fool you, the Tampa Bay
Rays
play in St. Petersburg, not Tampa. Of course, the name isn't really a bad one, because St. Petersburg is located on Tampa Bay -- much like the
Giants
and A's are technically in the same Bay area. So it's not like the Giants and Jets playing in New Jersey or the Pistons playing in Auburn Hills. But I digress ... with stadium and attendance issues for Tampa Bay (in St. Petersburg) and Tampa sitting right across the bay (is your head spinning yet?), there's long been speculation that Tampa could make a play for the Rays by raising funds to build a new stadium and woo the Rays across the bay.
Fret not, Tampa Bay fans in St. Pete, as new Tampa mayor Bob Buckhorn has stated he will not pursue the Rays. He even used a nice little analogy when he relayed his sentiment to St. Petersburg mayor Bill Foster.
"I'm not going to be the boyfriend in your divorce," Buckhorn says he told Foster. (
Tampabay.com
)
Fair enough. Buckhorn also noted that the Rays are an asset to the Tampa Bay region and everything should be done to keep them in the area. But then also reiterated it wasn't really his concern -- saying he had spent "zero" time in office thinking about the Rays.
"In this period, until that divorce occurs — if it occurs — the city of Tampa doesn't have a role," he said. "I don't intend to be a participant in that. They've got a relationship. They've got to resolve that relationship."
But what if the Rays definitely have to leave St. Petersburg? Buckhorn said they were an asset to the area and wouldn't want to lose them -- albeit while not actively helping St. Pete resolve the issues. The new mayor said hypothetically a downtown stadium is something that could revitalize the area. He reportedly chose his words very carefully, though, and did his best to stay out of talking about the Rays in Tampa.
Basically, it sounds like Tampa could pounce at the chance to woo the Rays, but only if St. Petersburg had lost all hope in retaining the franchise. And remember, both are on Tampa Bay.
For more baseball news, rumors and analysis, follow @cbssportsmlb on Twitter or subscribe to the RSS feed.