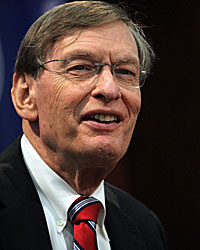 By Matt Snyder
Last week, MLB commissioner Bud Selig set off a firestorm of discussion when he said that baseball was moving "inexorably" toward expanding the playoffs to 10 teams. The format of which dominated discussion in the ensuing days -- one-game playoff for two wild card teams? Three-game series? More? -- but the player's union doesn't seem to think they're even close to agreeing on anything.
"We've had healthy discussions at the bargaining table about a lot of different schedule formats," union chief Michael Weiner
told ESPN.com
. "Included in those discussions were several formats which expand the playoffs in one form or another. But neither side has made any proposals. So it's just too early in the bargaining process to predict or guess where it's going to land."
Weiner further told ESPN.com that the players were open to playoff expansion, but the schedule of the playoffs and the regular season schedule would all have to satisfy the union. The collective bargaining agreement for baseball is set to expire in December.
It would appear Selig was a bit too quick to discuss the matter, though he did say he thinks the MLB is "moving toward" playoff expansion. To be fair to the maligned commish, he definitely qualified his statement.
Don't expect things to get hammered out specifically until the CBA is renewed in December -- and it will be, this isn't an NFL situation -- but definitely expect loads of discussion on the matter for the whole season. Especially when we get to the actual playoffs and people can use examples of what teams would be involved or left out.
For more baseball news, rumors and analysis, follow @cbssportsmlb on Twitter or subscribe to the RSS feed.