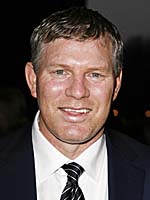 By Matt Snyder
Of course he was.
I'm a firm believer in the adage that you are the people with whom you associate, so it's no shock that Lenny Dykstra and Charlie Sheen are buddies.
After Dykstra was held on $150,000 bail for almost a week on bankruptcy fraud charges, Sheen fronted $22,500 to bail him out,
according to TMZ.com
.
Dykstra, 48, was jailed on April 14 for unrelated charges of theft, when it was discovered he was embezzling from his bankruptcy estate, which is a federal offense. Upon filing for bankruptcy in 2009, Dykstra said he owed over $31 million but only had about $50,000 in assets. After filing, Dykstra allegedly stole or destroyed $400,000 worth of property from the estate -- which was supposed to be used to pay off creditors.
Dykstra played 12 seasons in the majors, split between the
Phillies
and
Mets
. He was a three-time All-Star and finished second in MVP voting in 1993 -- he hit .305 with a .420 on-base percentage and scored 143 runs. He was 30, but unfortunately that was his last fully healthy season, as he only played a combined 186 games over the next three years before retiring. He was initially a very successful businessman upon retirement, but things changed significantly for him between 2006 and 2009.
For more baseball news, rumors and analysis, follow @cbssportsmlb on Twitter or subscribe to the RSS feed.