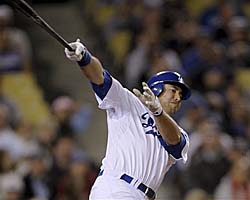 By Matt Snyder
As
Andre Ethier
picks up more and more attention for his current hitting streak -- presently at 22 games -- I started to wonder how important a hitting streak actually is. I get why we're obsessed with hitting streaks, in a way. It's a streak. Any kind of streak is intriguing, whether it's hits, errorless, 3-pointers, touchdowns or consecutive games streaks, people care. Hell, even fake streaks -- the Undertaker being undefeated in Wrestlemania -- seem to wow the crowds. So, yes, I understand streaks entrance people. It's good to admire prolonged consistency.
But with a hitting streak specifically, the baseline requirement is where I feel it loses its luster. You could go 1-5 with a single, zero runs, zero RBI and extend a hitting streak. That's not a good day. It's a .200 batting average and .400 OPS with no runs created. You could actually make the argument it was a bad offensive day, and I would.
I guess that's the crux of my issue with hitting streaks. Usually when a player has an extended hitting streak, it's because he's completely locked in. He should be getting credit for more than simply getting at least one hit per game.
Take Joe DiMaggio's vaunted 56-game streak. From May 15, 1941 to July 16, 1941, DiMaggio hit .408 with a 1.181 OPS, 16 doubles, four triples, 15 home runs, 55 RBI and 56 runs. He only struck out five times in 247 plate appearances, while taking 21 walks. It's an extraordinary run where he was hitting everything in sight. Contrast that to a guy who could break this record with a .250 batting average and pedestrian overall numbers. Think about it, you could go 1-4 57 times in a row and take down DiMaggio. Basically, that's a below-average hitter. But this player would be the toast of baseball, on covers of magazines and hitting every talk show in the circuit. He might even gain steam in postseason award consideration. It's doubtful this ever happens -- or even comes close to happening -- but the definition of a hitting streak tells us this it's 100 percent possible.
The point is that in and of itself, a hitting streak isn't extraordinary. It's just consistent. There's a possibility a player could have a decent hitting streak and actually have it be a relatively boring hitting streak. It isn't likely, again, because the player having a hitting streak is doing so because he's locked in. But it is possible.
As for Mr. Ethier, he's raking. He's hitting .405 with a .479 on-base percentage during the 22-game streak. He has two home runs, eight doubles, 13 RBI and 12 runs in that span. Of course, his teammate
Matt Kemp
is having a better 2011 season. It's just that three times -- April 5, April 13 and April 19 -- he went hitless. So no streak. But I'm fine with celebrating how well Ethier is swinging the bat. I'd just rather focus on how well he's hitting the ball, and not because he's getting at least one hit in each game.
Also, let's note that
Joey Votto
and
Ryan Braun
have been on base in every single game this season. That's more valuable than Ethier's hitting streak and both of those guys easily have better overall numbers.
Do we really need one simple little number (hitting streak) to quantify how well someone is swinging the bat? I'd rather try to be smarter than that and look deeper -- lest we get fooled into believing someone is better or worse than he actually is.
The bottom line is we should be celebrating the player for having an amazing run. It's more than just a hitting streak. I'm fine with continuing to follow hitting streaks -- because consistency over a long period of time should be admired -- but it's important to remember there's a lot more to the game of baseball than just getting one hit in a game.
For more baseball news, rumors and analysis, follow @cbssportsmlb on Twitter or subscribe to the RSS feed.