By C. Trent Rosecrans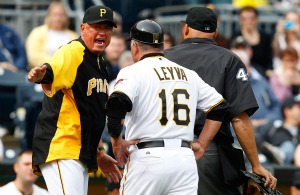 Clint Hurdle was still defending his player and third base coach a day after Andrew McCutchen was thrown out to end Sunday's loss to the Nationals.
While it was certainly an unconventional play to test Jayson Werth's arm by tagging up on a fly ball down three runs with two out in the ninth, Hurdle said it's exactly what he wants his team to play.
"We're not a conventional team," Hurdle said on Monday according to the Pittsburgh Tribune-Review. "That book that everybody reads/ Show me a copy, I'll read it with you. … That book, if you look at the foreword, it says, 'This is a manager's cover-his-backside book. If you stick to this book, you can never be second-guessed. Merry Christmas.' That more or less, is what it's for. My opinion."
I love it.
The book says McCutchen's run was meaningless down three -- and it probably was. But it was a way to get just a little bit closer, to put more pressure on the Nationals. It didn't work, but it was aggressive and used an advantage the Pirates do have -- McCutchen's speed -- to put pressure on the Nationals.
"I expected him to go," Hurdle said. "I would have been more shocked if he hadn't gone. Because one thing I told [third base coach] Nick [Leyva] in spring training is I don't ever want to wonder if he'd have been safe."
That kind of aggressive play is one of the things that have made the Pirates fun to watch this season -- something you haven't been able to say much in the past. The team has some legitimate young talent and can only get better by stretching the limits of their game. Hurdle is empowering them and he's not afraid to take the heat. He took it for Sunday's so-called "blunder" but he'll be responsible when it works the next time.
Playing by the book is boring -- and so often you see silly sacrifice bunts and other such tactics just because it is safe and there's no second-guessing. The Pirates were unlikely to win that game anyway, but Hurdle took a shot. And that's what makes this game great.
For more baseball news, rumors and analysis, follow @cbssportsmlb on Twitter or subscribe to the RSS feed.