By C. Trent Rosecrans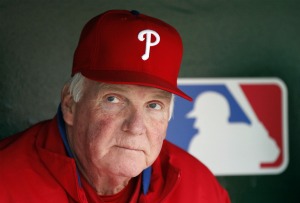 Ozzie Guillen and Kenny Williams may not be the only squabbling manager-general manager duo in baseball -- enter Philadelphia's Charlie Manuel and Ruben Amaro Jr.
On Sunday, Amaro implied reliever Jose Contrears was forced to the disabled list because he was overused. Contreras had pitched five times in seven days from April 15-21.
"He had been pitching quite a bit," Amaro said on Sunday. "I think it was just the work that he's done. He didn't indicate it was one pitch, just over time, especially after his outing on Thursday."
Contreras needed 26 pitches to get out of the ninth inning on Thursday, a 3-0 victory over the Padres for his fifth save of the season.
Manuel, according to Matt Gelb of the Philadelphia Inquirer, was not very happy about his critics questioning how much the manager had used the 39-year-old Contreras.
"There's no way in hell we overused Contreras. That's how I feel. There's no way," Manuel said. "What did he pitch? The most games was three. Then he had a day off. He pitched five times in seven days. We weren't trying to stay away from him. He was closing games for us. That's how I look at it."
It was then mentioned Amaro said Contreras was used a lot.
"I don't think he had been used a lot. Really. What's today? April 25? It's April 25 and I already hear our guys need days off. Guys need this. Guys need that. I've been listening to that for about four or five years now," Manuel said. "The object of it is, like I tell our guys in the meetings, the brass, the object is for us to win the game. Every day we come to the ballpark, that's the object, to win the game. Now do you want to win or do you want to lose? To me, I want to win so I'll put the best team I possibly can on the field that day. I'll give you days off when I think so. That's part of my job too."
Manuel went on to say he doesn't need anyone telling him what to do. When asked if anyone has said anything to him about his approach, he answered, "That's none of your business."
For more baseball news, rumors and analysis, follow @cbssportsmlb on Twitter or subscribe to the RSS feed.