By C. Trent Rosecrans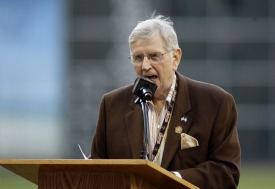 At 35, first-year Cardinals outfielder Lance Berkman looks as good as he has in years, and long-term Astros radio announcer Milo Hamilton is not happy about it. Hamilton, who has called Astros games since 1986, said Berkman didn't put in the off-season work the last couple of years that he did for the Cardinals this winter.
Berkman said he worked with a trainer in the offseason for the first time in order to return to the outfield for the first time since 2007. Hamilton said when he saw Berkman in spring training, he was in better shape than he'd seen the Big Puma in the last five years.
"If he'd done that the last couple of years he was here, he could have finished out a really fine career in Houston if he'd have given it that same dedication," Hamilton said Monday on SportsTalk 790 AM in Houston. "I just what a simple answer, why did you not think it was necessary to get in shape for the Astros?"
Hamilton questioned Berkman's leadership qualities, saying Berkman didn't do his rehab work in the last couple of years and the veteran players weren't upset when he was traded to the Yankees and the younger players thought they could get away with not working hard, because they saw Berkman do it.
Hamilton spoke highly of Berkman off the field, but said he was upset to hear Cardinals manager Tony La Russa call Berkman the leader of the Cardinals, since Berkman said in Houston it wasn't part of his personality to lead. Hamilton said he owed Astros owner Drayton McClain not only to be in shape but also to lead after signing a six-year, $85 million contract in 2005.
After a slow start, Berkman has been red-hot, hitting .377/.449/.725 with six home runs in his first 19 games of the season.
If this is the general sentiment around Houston, it will be interesting to see how Berkman is greeted at Minute Maid Park when the Cardinals start a three-game series there on Tuesday.
For more baseball news, rumors and analysis, follow @cbssportsmlb on Twitter or subscribe to the RSS feed.