By Evan Brunell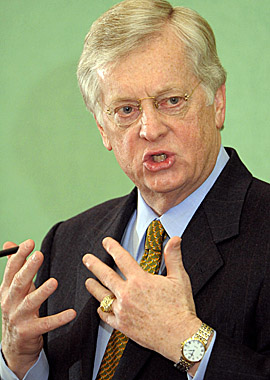 Tom Schieffer has been named the "monitor" of the Dodgers, as commissioner Bud Selig revealed Monday.
"We are very fortunate to have someone of Tom Schieffer's stature monitor the operations of the Los Angeles Dodgers on behalf of Major League Baseball," Selig said. "Tom is a distinguished public servant who has represented the nation with excellence and has demonstrated extraordinary leadership throughout his career. The many years that he spent managing the operations of a successful franchise will benefit the Dodgers and Major League Baseball as a whole. I am grateful for Tom's acceptance of this role."
Schieffer is an unfamiliar name to those following baseball over the past decade, but he's an influential part of Rangers history, serving as team president from 1991-99 after joining George W. Bush's investment team to purchase the Rangers. Once the sale completed, Schieffer, was put in charge of ballpark development and engineered the construction of the Ballpark in Arlington, which opened in 1994.
Schieffer would go on to oversee three division titles during his time in Texas, which also saw a rise to managing general partner once Bush stepped down to become governor of Texas in 1994. His group would later sell the team to Tom Hicks, but Schieffer was obligated to remain as team president for one season, at which point he stepped down and followed Bush to the White House despite being a Democrat. It was not his first foray into politics as he was elected to the Texas House of Representatives at age 25 before becoming an attorney dealing with oil and gas.
The 63-year-old was named ambassador of the United States to Australia, and was so impressive in those duties that the state department cited his business plan for the embassy as one of the three best in the world. The attorney general was also admiring of Schieffer's leadership and organization skills while in Australia, a sentiment the A.G. would later repeat when he moved onto becoming ambassador to Japan in Bush's second term. Schieffer's major impact in Australia was during the post-9/11 world, when America and Australia's alliance was strengthened.
Schieffer would prove instrumental in re-organizing the U.S. and Japan alliance, which has been instrumental in keeping both countries secure in Asia and the Pacific. Upon exiting his role January 20, 2009, when Barack Obama was inaugurated, he was given the Department of Defense medal for distinguished public service award, the highest civilian award one can receive from the Pentagon. He later briefly ran for governor of Texas before stepping out of the race and the public eye -- until now.
Schieffer will take over a difficult role in Los Angeles, as he will entered a fractured environment hostile to him. Owner Frank McCourt has indicated that he does not understand why Selig is appointing someone to monitor the Dodgers. While McCourt has contended that the Dodgers are within strict financial guidelines that enable him to retain power of the team, Selig is invoking his powers to force McCourt into selling the highly-leveraged team threatening to be swallowed up in debt. McCourt had to take out a personal loan against the Dodgers' TV rights from FOX for $30 million simply to meet April's payroll; this after Selig rejected a $200 million loan to the team from FOX. In addition, McCourt had several embarrassing anecdotes and references to his lavish lifestyle at the expense of the team (essentially using the club as a personal ATM) highlighted in his divorce trial with Jamie McCourt that found the Dodgers owned by the couple, necessitating McCourt to find funds to buy out his ex-wife.
Not only does McCourt not want him there, but incoming Dodgers executive, Steve Soberoff, has been openly critical of Selig's decision as well as he opens his new duties as vice chairman. Meanwhile, GM Ned Colletti was succinct in who he answers to -- McCourt. Unfortunately for Colletti, however, he will now have to answer to Schieffer on matters that require an additional expense. The club is unable to pay any expenses greater than $5,000 without direct approval. While the budget for the season has already been set, as Colletti noted, he will still need approval for expenses even if it's within the budget. Most teams generally hold back the full value of their budget both for draft pick bonuses and in-season acquisitions, which could be threatened.
Schieffer is not expected to permanently remain in the role, but he could be in for the long haul as McCourt is expected to pursue litigation against Selig to have the handcuffs released. As anyone knows, litigation can take a very, very long time although Selig is clearly hoping for a quick resolution.
For more baseball news, rumors and analysis, follow @cbssportsmlb on Twitter or subscribe to the RSS feed.