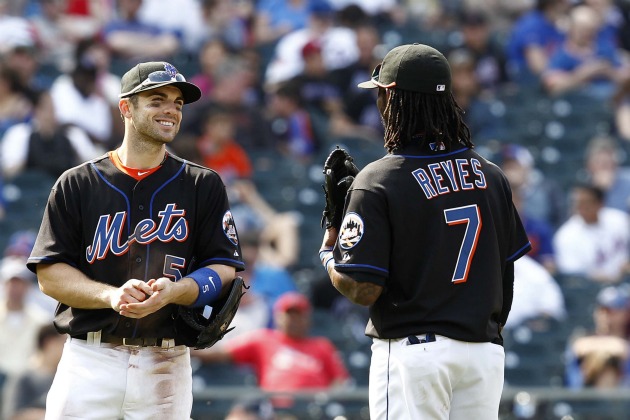 By Evan Brunell
AMAZING CALLS: The Mets have instituted a new program this season where Mets players will phone citzens for various reasons, including sad ones.
Such a call led to the arrival of John Falcone and family to Citi Field, mere months after John's son, also named John, was shot to death after saving a 3-year-old from the assailant in Poughskeepie, N.Y. The Falcones came to Citi Field Saturday to watch the Mets eventually defeat the Diamondbacks after David Wright told the family the club would do their best to win for them.
"More than anything, you just hope that for at least one afternoon, they can get their minds away from the tragedy," Wright said.
The Falcone family spoke to multiple Mets players and were allowed on the field prior to the game. They were given seats three rows behind first base and came away with signed baseballs. Needless to say, John and wife Margaret were "overwhelmed" by what the Mets had done for them.
"You have this deep emotional connection between fans and the team, and if you can bring some joy and momentary happiness, of course you want to do it whenever you can," Mets vice president Dave Howard said.
Credit the Mets -- and David Wright, the son of a police officer -- taking a great idea and helping to make a difference. (New York Post)
BASEBALL TODAY: Will Jason Bay's return catapult his team back into contention? Andy McCullough of The Star-Ledger joins Lauren Shehadi to talk about the Mets and the rest of the NL East.
CONSISTENCY: Being in the starting lineup every day and not having to worry about a demotion has worked wonders for new Padres center fielder Cameron Maybin, whose biggest question in his bat is coming around. (North County Times)
HOUSEKEEPING MEANS MASSAGING: To Lenny Dykstra, if you're hired to clean his house, you also need to give him a massage while the former major-league star is buck naked. That's what happened to a potential employee when she interviewed for the housekeeping position. Police are now investigating charges of lewd conduct. (TMZ)
DIETING: Athletics relief pitcher Brad Ziegler could be primed for a big year. The submarining reliever is receiving treatment for childhood asthma, which he believed he no longer suffered from, as well as starting a new diet as his body does not handle milk, eggs or gluten well. Ziegler can already notice a significant difference. (San Francisco Chronicle)
KEEP YOUR PANTS ON: Hanley Ramirez is running out of ways to snap out of the slump that's plagued him in the early going and is turning to superstition to help. He tried wearing high socks, then abandoned them, but no luck. What's next? "Maybe no pants," Ramirez suggested. Something tells me he won't go to that extreme. (Miami Herald)
REHAB TIME: Domonic Brown will begin a rehab assignment later this week in his return from a fractured hamate bone. While Ben Francisco has been equipping himself fine as the starting right fielder, you can bet the Phillies can't wait to see what Brown can do. (Philly.com)
HOLD IT: Can you imagine umpiring a 33-inning game? Take it from someone who's umpired Little League games -- even umpiring those games is no picnic, so imagine how tough Denny Cregg had it as home-plate umpire. But then ratchet it up a notch, as Cregg reveals on the 30-year anniversary of the game, and factor in not going to the bathroom even once during the whole affair. (MLB.com)
INSPIRATIONAL: Or something like it. Take a listen to Tim "Wild Thang" Lepard, who delivered an "inspirational" speech during a minor-league baseball game last season replete with monkeys riding dogs. You read that right. (Youtube)
BASEBALL FAMILY: Bernie Stowe has been part of the Reds' clubhouse for 65 years, and it's grown into a family affair as his two sons pilot the home and visitor's clubhouse. A nice profile on people with deep connections to baseball that you never hear about. (Cincinnati Enquirer)
For more baseball news, rumors and analysis, follow @cbssportsmlb on Twitter or subscribe to the RSS feed.