By C. Trent Rosecrans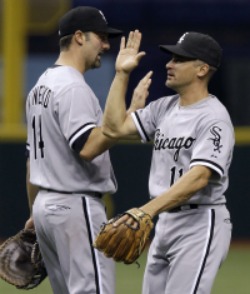 White Sox utility man Omar Vizquel turned 44 on Sunday, but says he doesn't see the end of his career coming anytime soon.
"As long as the body is OK, and [I'm] performing and doing what I ask it to do," Vizquel told the Chicago Tribune's Mark Gonzales when asked if he could be celebrating more birthdays on the field. "Right now there's no reason I can't. I am going to keep trying to play. I don't need to be on a table getting massages, or [in] a Jacuzzi or need a personal trainer with me on the road trips. I feel like I can still do the same things I've been doing for all these years."
With an 0-for-3 day on Sunsday, Vizquel's average dipped to .308. But that's not too bad for a 44-year-old. He started at second base on Sunday, the third time he's started there this season. He's also started games at shortstop and third base. According to the Elias Sports Bureau, only Bobby Wallace of the Cardinals has played shortstop past his 44th birthday -- and that was 93 years ago.
"[Vizuqel] saved our [rears] last year, big-time, and continues to do it," White Sox manager Ozzie Guillen said. "I need to put him out there because we need a break and he shows up to perform the way he does. That's not an easy thing to do."
Last season, in his first with Chicago, Vizquel hit .276/.341/.391. This season he's hitting .308/.357/.346.
Vizquel has 2,807 career hits but may need to play again at least next season to reach 3,000. He had 95 hits last season with the White Sox, but only 106 combined in 2008 and 2009. If he plays into 2013, he'd have a realistic shot at 3,000, which would guarantee him a spot in the Hall of Fame.
With 11 Gold Gloves at the game's most important defensive position, Vizquel is among the best to ever play as a defensive player, but is often overlooked because of the offensive shortstops of his time, such as Derek Jeter, Cal Ripken Jr. and Alex Rodriguez.
Only Ozzie Smith had more Gold Gloves at shortstop (13) -- and only Smith, Greg Maddux (18), Jim Kaat (16), Ivan Rodriguez (13), Brooks Robinson (16), Roberto Clemente (12) and Willie Mays (12) have won more Gold Gloves overall.
Vizquel's offensive numbers are better than Smith's, but Smith was more popular and seen as perhaps the greatest defensive player off all-time, not just shortstop. Vizquel has always been respected, but still viewed as inferior to Smith defensively and other shortstops offensively. Smith tops Vizquel in WAR, 64.6 to 43.3, according to Baseball-Reference.com.
If Vizquel doesn't get to 3,000 hits, he'll be an interesting case. If he does, he's a slam-dunk.
For more baseball news, rumors and analysis, follow @cbssportsmlb on Twitter or subscribe to the RSS feed.