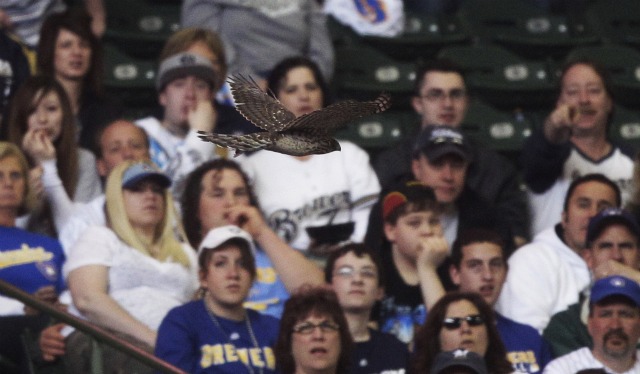 By C. Trent Rosecrans
Randy Wolf allowed just four hits over eight innings, but a hawk stole the show at Miller Park on Sunday.
With the roof closed at Miller Park, a hawk hunted another bird and was the center of attention for much of the Brewers' 4-1 victory. The hawk attacked the other bird in center field in the top of the third and then hung out around Astros right fielder Hunter Pence in the bottom half of the inning.
"Whatever that was, a pigeon, it looked scared. It looked at me like, why is the roof closed? I can't get out of here," Wolf told reporters, according to the Associated Press.
Wolf said the bird also "buzzed my tower" during his third victory over the season. Brewers catcher Jonathan Lucroy said he thought the bird was going to attack.
Astros second baseman Bill Hall was close to the bird in its third inning.
"He was on the outfield grass, hanging out. Wasn't a lot of action [in his direction] during the time he was out there," Hall said. "I don't know when he got up and flew away. Obviously, he was having a good time out there."
It was apparently a good thing neither Hall nor Pence approached the hawk.
"It's really unlikely for a bird like that to get aggressive, unless somebody was coming after him, trying to pick him up or getting to close to his nest," Heather Neldner, a zookeeper in the Milwaukee County Zoo's aviary, told MLB.com's Adam McCalvy. "If he's just sitting there, minding his own business, it's unlikely that he would go after a random person."
And like any celebrity, the Miller Park Hawk had his own Twitter account created during the game -- @MillerParkHawk. The hawk, of course, is following Pence, @HunterPence9, on the social networking site.
After the game, Brewers pitcher LaTroy Hawkins noted on Twitter it was indeed a hawk, and write "At least one Hawk was seen Today!" And, of course, it should be noted Hawkins was the favorite Brewer of the hawk, according to @MillerParkHawk.
For more baseball news, rumors and analysis, follow @cbssportsmlb on Twitter or subscribe to the RSS feed.