By C. Trent Rosecrans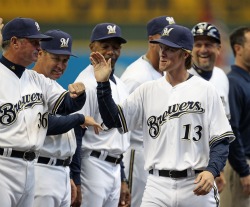 Before Sunday's game against the Astros, Brewers manager Ron Roenicke said the Brewers wouldn't rush Zack Greinke's return to the Brewers.
Hours later, he showed why, struggling a little against the Royals' Triple-A affiliate in a start for the Nashville Sounds.
Greinke went 2 2/3 innings, allowed three hits and two runs, walking one and striking out two. He finished with 54 pitches, 32 strikes.
It was Greinke's second minor-league rehab outing. He threw 35 pitches in three innings at Class A Brevard County on Tuesday. He is scheduled to make another start for Nashville on Friday.
Roenicke said Greinke wasn't pressing the team to get back sooner than the first week in May.
"Not any more," Roenicke told Charles F. Gardner of the Milwaukee Journal Sentinel. "He was. To bring back Zack a week earlier or five days earlier and really not have his arm strength, it makes no sense to me. We need this guy for the long haul.
"When he's back here, I want him to be solid for the rest of the season, hopefully getting us into the playoffs. That's when I want him good."
Greinke retired the first five batters he faced on Sunday before giving up a double to Lance Zawadzki in the second and walking Gregor Blanco, but struck out Irving Falu to end the inning. In the third, he allowed back-to-back triples, including one to center fielder Lorenzo Cain, one of the players the Brewers gave up to get Greinke. Greinke was relieved after Eric Hosmer's sacrifice fly.
Former Brewer Jeff Suppan started for the Storm Chasers.
While Greinke is still a few starts away, the Brewers expect to get right fielder Corey Hart back as soon as Tuesday. Hart is scheduled to play all nine innings for the Sounds on Monday and then could return either Tuesday or Wednesday.
"We'll see how [Monday] goes," Roenicke told MLB.com. "If his at-bats are good and he feels his timing is there, we may try to do something."
For more baseball news, rumors and analysis, follow @cbssportsmlb on Twitter or subscribe to the RSS feed.