By C. Trent Rosecrans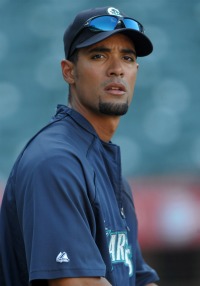 Franklin Gutierrez has a new diagnosis and a new treatment, now hopefully it's the right one.
After being diagnosed with a "slow digestive tract" this spring, Gutierrez continued to struggle with stomach issues before starting the season on the disabled list. He was sent to the Mayo Clinic in Minnesota this week and the new diagnosis is irritable bowel syndrome. He is taking new medicine that he must take before he eats.
"I've been having this a long time and nobody knew what I had, so knowing now this is what I have [and] can be treatable makes me feel better mentally," Gutierrez told Mason Kelley of the Seattle Times. "And now I want to feel better physically, too, to get ready and be here again. It's going to take time for the medicine to work. Let's see how it goes."
The Mariners are still slow to give a timetable for Gutierrez's return, but the center fielder will travel with the team to Detroit and Boston.
In Gutierrez's stead, Mariner center fielders have hit .208/.318/.389 with three homers and one stolen base -- those starts have been distributed evenly between Ryan Langerhans and Michael Saunders with 11 games each, before Sunday's game.
Even if Gutierrez doesn't return to his 2009 form, his 2010 regression would still be an improvement. Gutierrez hit .245/.303/.363 last season while dealing with his stomach issues. He hit .283/.339/.425 in 2009.
For more baseball news, rumors and analysis, follow @cbssportsmlb on Twitter or subscribe to the RSS feed.