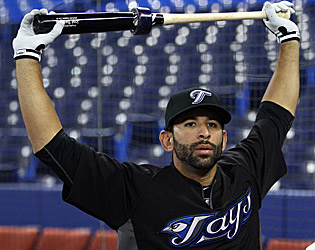 By Matt Snyder
Jose Bautista
entered the 2010 season with career highs of 16 home runs, 63 RBI, a .757 OPS and 68 walks. In 2010, he hit 54 home runs, drove home 124 and had a .995 OPS with 100 walks. Considering he was 29 and had over 2,000 previous plate appearances, many questioned how real that season was. Surely he couldn't come close to repeating things in 2011.
Well, he's off to quite a good start. In fact, he's absolutely raking.
After a two home run game in a loss Saturday, Bautista is now hitting .371 with seven home runs, 10 RBI, 19 runs and more walks than strikeouts (17 to 14). He leads the AL in on-base percentage and OPS-plus, too. This is in 17 games.
Through 17 games last season, Bautista was hitting .238 with three home runs, 12 RBI, nine runs and an .856 OPS.
Even if he slows down a bit, it's past the time to admit 2010 wasn't a fluke. Bautista is a bona fide slugger and one of the best hitters in the bigs. He signed a huge extension in the offseason and still hasn't slowed down. In fact, he's hitting even better at this point.
I'll simply close with this: What do
Alex Rodriguez
,
Miguel Cabrera
and Jose Bautista have in common? They're the short list of the best hitters in the American League. Can you imagine if someone had said something like that two years ago? Or even last year at this time?
It's been quite the amazing transformation from a mediocre -- at best -- player to a superstar.
For more baseball news, rumors and analysis, follow @cbssportsmlb on Twitter or subscribe to the RSS feed.