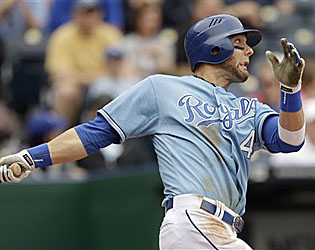 By Matt Snyder
On the eve of opening day, someone told you
not to give up on the hope
that
Alex Gordon
would pan out. Nineteen games into the season, that person doesn't need to remind you anymore, because Gordon is hitting like a stud. He has a 16-game hitting streak and leads the AL in runs and hits. He's hitting .361 with 14 RBI, 10 doubles and a .947 OPS. The question is, can he keep this up?
Well, no. He's not going to hit .361. No one is. But is he going to continue to play like the big-time prospect he was once projected to be?
I'm inclined to say yes.
The non-sabermetric side of me says that he's established confidence now and that's more than half the battle for someone with this talent level. The mental block where he internally questions if he can actually succeed at the major-league level is now removed. Look, 19 games is a small sample, to be sure, but it's not small to someone who has fought for years to succeed. He needed this.
As for the sabermetric side, let's delve in. Gordon has a .439 BABIP, compared to a career mark of .303. He is hitting far more line drives and ground balls than he ever has before, and his fly ball percentage is 29.9 -- as compared to a 43.3 mark in his career. That means his BABIP should rise, but all the way up to .439 is insane. Thus, his batting average is going to come down. Still, with the line drive and ground balls comprising a huge majority of his balls in play, the BABIP is bound to rise quite a bit.
Gordon's strikeout percentage is down, which is a reflection of two things. First of all, he's locked in. Of course he won't strike out near as much when things are going well. Secondly, though, he's far more aggressive. He is swinging at far more pitches and seeing less total pitches than ever before in his major-league career. This probably has something to do with
Billy Butler
being his protection now as he hits in the three-hole, but also is a new approach.
The one area of concern -- albeit slight -- is the lack of home run power. Gordon only has one bomb and most of his 10 doubles are of the line drive or ground ball variety -- as opposed to a deep fly ball off the wall. His five percent home runs per fly ball rate is by far the lowest of his career. This could be a small sample coincidence or a result of his new approach.
The bottom line is that we can expect Gordon's average to dip, but not drastically. Somewhere in the .310 range is probably reasonable. He's going to continue to drive in runs from his cushy spot in the batting order and hit doubles. I don't expect lots of home run power to appear, as he's unlikely to change his approach (and why should he? Stick with what works). Think maybe 15 homers but around 90 RBI.
If you'd come into the season telling the
Royals
Gordon was going to hit .310 with 15 home runs and 90 RBI, they'd have been ecstatic. Just as Gordon and the Royals are with his current level of production.
For more baseball news, rumors and analysis, follow @cbssportsmlb on Twitter or subscribe to the RSS feed.