By Evan Brunell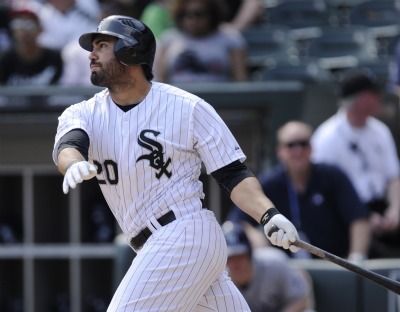 Carlos Quentin is certainly enjoying 2011 so far, as he cranked two solo home runs Friday to move into a tie for the AL lead in home runs with six. Over a full season, that's a 49-homer pace, which would easily represent a career high for the 28-year-old.
However, Quentin pacing for over 40 home runs isn't a surprise, as he's long had that type of power inside him. He's already had three seasons with over 20 home runs and one sublime 2008 year where he bashed 36 home runs off a .288/.394/.571 line. Currently, his mark is .310/.395/.634. That batting average is likely to tumble given his career .254 mark, but don't be surprised to see those 49 home runs occur.
Quentin has long had power, but is increasing his rate of putting fly balls in play, which naturally turn into home runs as home runs per fly ball are thought to be a constant. The more fly balls one hits, the more chance for home runs. Unfortunately for Q, he appears to be playing a bit over his head as his walk rate has dropped while his whiff rate has stayed consistent. What's responsible for his hot start, at least in the batting average department, is a rather high BABIP of .333, which is diametrically opposed with his career line of .255. (Notice how close his BABIP this season and career line correlates with his batting averages?)
What he's lucking into is making contact with a higher clip of pitches outside of the strike zone. These are finding holes, but that can't last forever. He's still offering at the same rate of pitches out of the zone, but is connecting with them more. There could be any number of reasons for that, but it's not exactly common for a hitter to suddenly develop a propensity for getting hits on pitches out of the zone.
So yeah, Quentin will probably come back down to earth a bit, but even then, that's only speaking specifically to batting average. His power should be just fine even if he's producing at otherworldly numbers at the time. Even if that drops down a bit, he's still capable of clearing the 40-homer barrier and should certainly leap over 30 provided he can play at least 140 games which is far from certain.
For more baseball news, rumors and analysis, follow @cbssportsmlb on Twitter or subscribe to the RSS feed.