By Evan Brunell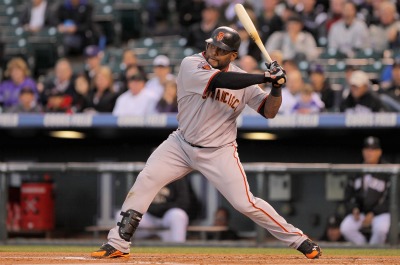 Pablo Sandoval tried and failed to drop weight after the 2010 season, and it cost him his job at third base.
After hitting .268/.333/.409, Sandoval knew he'd have to actually show up in shape this time to keep a hold on the third base job. Beneath all these layers of fat, Sandoval was actually a darn good player. From 2009-09 as a 21- and 22-year-old, he hit .333/.381/.543 in 787 plate appearances, cranking 28 home runs.
Sandoval allowed himself some time to celebrate the Giants' World Series victory then dedicated himself to losing weight and posted progress on Twitter throuhgout the winter. Showing up to spring training slimmed down -- and staying slimmed, which can be difficult to do when baseball kicks into full gear -- Sandoval is off to a hot start, batting a cool .328/.400/.603 with five home runs.
At just 24, Sandoval could be primed to develop into a force in the middle of the order if his recent move from being a doubles-hitter to swatting home runs is for real. While his line-drive percentage is largely unchanged, he's taken a leap forward in flyball percentage at the expense of ground balls, which obviously lends itself to more home runs. Coupled with a more discerning eye, Sandoval seems to be waiting for his particular pitch more and taking advantage of it when it arrives.
The good news is that this change in batted-ball philosophy could be a permanent one. Studies have shown that rates such as plate discipline and line-drive along with groundball ratios stabilize around 40 plate appearances. (Sandoval has 65 to date.) Fly ball ratios take a bit longer to draw data from at 175 PA, but given how the other rates stablize much quicker, we can be confident in concluding that Sandoval's newfound propensity to hit more fly balls is likely to stay. We're approaching the point where small sample size can't be trotted out for peripherals to explain away early-season struggles or production, even if it remains too early to speculate on traditional slash statistics, which need a half-season before information can truly be extropolated.
If the switch-hitter can keep it up, he'll quickly establish himself among the elite young power hitters.
For more baseball news, rumors and analysis, follow @cbssportsmlb on Twitter or subscribe to the RSS feed.