By Evan Brunell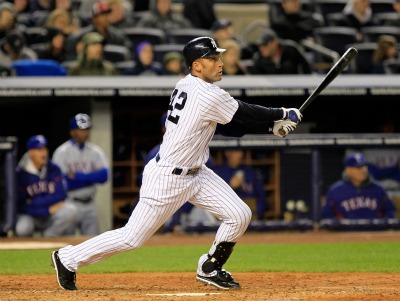 What to do with Derek Jeter?
The storied Yankees captain is fresh off signing a three-year, $51 million deal off of what was a career-worst season... at least, it was his career-worst. Now, though? 2011 has a real chance to supplant 2010 as yet another indication of the 36-year-old's decline.
Last year, Jeter hit .270/.340/.370 in 739 plate appearances, numbers he'd love to have right now as he is working on a .219/.282/.234 line. Yes, it's still too early make sweeping pronouncements on his 2011 season -- his 17th in the majors -- but once you factor in his numbers with last season's, some stark trends emerge.
With 2010 and 2011 numbers included, Jeter is hitting .265/.335/.358, which puts him 21st in the majors in that time span when sorted by worst slugging percentage. But of those who rank below Jeter, several don't deserve the ignominy as much of their value is tied up in other aspects and are working on far cheaper contracts. When you put the whole package together of poor defense, offense and a bloated contract, Jeter could very well be the worst starting player in the game. And that's important, as he's received the fourth most plate appearances between 2010-11, with only three other players topping that mark. For one of the worst hitters in the game to receive such a major number of plate appearances means New York is throwing away valuable production at the top of the order.
It would be one thing if he was down at the bottom of the order, but no -- Jeter's stature commands him to bat leadoff or No. 2. That type of responsibility is simply not within Jeter's parameters anymore. He's grounded into three double plays so far, which is a ways away from Albert Pujols' leading eight GDPs, but is tied for fifth in baseball. Last season, Jeter was ninth in baseball with 22 double plays -- but is the only player in the top 10 to regularly bat at the top of the lineup where he induced plenty of rally-killing DPs.
And those three DPs could spike past Jeter's 22 in 2010 if he can't reverse his troubling groundball trends. Jeter is currently hitting 72.9 percent of all batted balls for grounders, which is a high number and speaks to the loss of power the veteran shortstop has experienced. While he should eventually improve once the weather warms up, it's still a notable percentage given last year's mark of 65.7 percent. His career mark, meanwhile, is 57.2 percent. His groundball-to-flyball ratio is at a career-high 5.38 after his previous career-high of 3.60 in 2010, both of which were the highest marks in baseball. Again, more indications that Jeter's bat has massively slipped. Yes, it's still too early to make any sweeping pronouncements based on his 2011 numbers, but once you add in last year, a clear trend is emerging.
If Jeter can't turn things around and approximate the Jeter of his heyday, he'll be batting eighth shortly.
For more baseball news, rumors and analysis, follow @cbssportsmlb on Twitter or subscribe to the RSS feed.