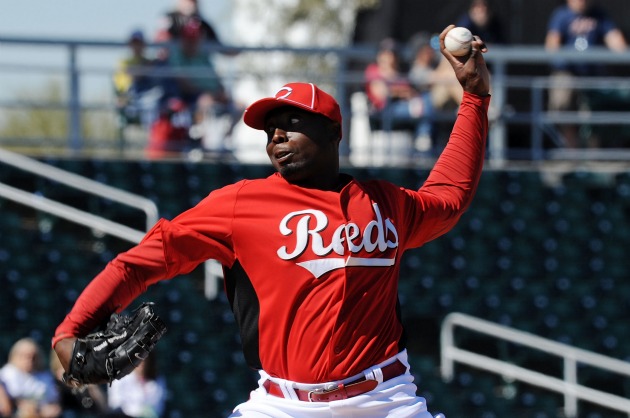 We're approaching the time in baseball where it's time to pay attention to Triple-A performances, as they will start impacting decisions on promotions and demotions.
In fact, it's already started as Jerry Sands was promoted to be the Dodgers' new left fielder after bashing five home runs in 10 games for Triple-A. Here's a look at some of the hottest performers down one rung of the ladder.
HITTERS
Anthony Rizzo, Padres -- Rizzo is hitting a ludicrous .436/.483/.764 in 60 plate appearances, bashing four home runs as a 21-year-old. Rizzo was supposed to be a legitimate prospect, but it appears as if he may have taken a major step forward this year to make Padres fans quickly forget about losing Adrian Gonzalez. With Brad Hawpe flailing, the Padres may want to call up Rizzo as soon as the calendar flips to June and it becomes unlikely he can qualify for arbitration as a Super Two player. At the very least, Rizzo's all but locked up making his big-league debut at some point this season.
Scott Sizemore, Tigers -- As the Tigers scuffle to find a solution at second base, the answer is staring at them in Toledo. Sizemore, who was supposed to become Detroit's second baseman last season before a broken leg dashed his hopes, is off to a .389/.463/.556 start in 41 PA. The Tigers will be forced to make a move at some point as they're already moving away from Wil Rhymes to Ryan Raburn. Raburn's shifting over from left to get Brennan Boesch's hot bat in the lineup, so Detroit will delay any decision a little while longer.
Wily Mo Pena, Diamondbacks -- A nice comeback story, as Pena famously cranked 26 home runs for the Reds back in 2004 as a 22-year-old, was traded to Boston with a heap of expectations, bombed spectacularly and eventually found himself in the independent leagues. The Padres gave him a flier last season in Triple-A after his indy stint, which went so well he got an offer from the Diamondbacks where currently leads the PCL in home runs with six and is just one behind the leader for overall Triple-A superiority. The 29-year-old needs to keep it up a bit longer and show he can actually hit a breaking pitch this time around, but if he keeps up this production, Arizona will find room for him in a hurry.
PITCHERS
Julio Teheran, Braves -- Teheran can't even drink yet, but he's baffling Triple-A hitters by posting a 1.69 ERA over 16 innings. His strikeout numbers are way down as his 11/6 K/BB rate suggests, but that will eventually rise. Considered one of, if not the, best pitching prospect in the game, Atlanta is ridiculously deep so it's possible they hold him back the entire year especially given his age, but this much is certain thus far in Teheran's career: you can't count him out, and he will eventually hold the top spot in the Braves' rotation.
Dontrelle Willis, Reds (pictured) -- Willis couldn't make the Reds out of spring training as a left-handed reliever, so he headed to the farm to function as a starter. And he's doing quite well, twirling 17 innings of one-run ball and punching out 15 while walking five. Let's not hop back on the D-Train just yet, but it's fantastic to see a good guy who fell on hard times start to figure things out again. The Reds rotation figures to undergo quite a few changes as the year progresses, so Willis could figure into the situation by year's end.
Brad Mills, Blue Jays -- Toronto has jettisoned Jesse Litsch and Brett Cecil from the rotation in the last few days, so Mills may be the first on this list to get the call to the majors. The 26-year-old has a career 7.80 ERA in the majors over 30 innings but seems to have figured things out this year. He has a sparkling 0.82 ERA in three starts. While his strikeout rate of 7.0 batters per nine is lower than his minor-league career mark of 8.6, his BB/9 is down from a career line of 3.3 to 2.0. Yeah, that'd do it. If Toronto doesn't shift reliever Marc Rzepczynski back to the rotation to fill the void, bet on Mills getting the call.
For more baseball news, rumors and analysis, follow @cbssportsmlb on Twitter or subscribe to the RSS feed.