By C. Trent Rosecrans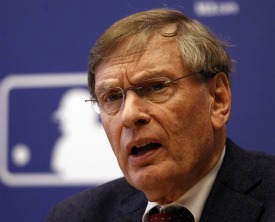 Commissioner Bud Selig said Thursday that he expects the baseball playoffs to go from eight teams to 10 in time for the 2012 season.
Selig has previously said he supports expanded playoffs, but speaking with the Associated Press Sports Editors on Thursday, he said he expects it to be a reality.
"I would say we're moving to expanding the playoffs, but there's a myriad of details to work out," Selig said. "Ten is a fair number."
Selig said there would be two wild card teams and those two teams would meet before facing facing division winners.
"The more we've talked about it, I think we're moving inexorably to that," Selig said.
The biggest decision is how many games the new wild card round would be and how long the others teams would have to sit.
I don't really see any good reason other than trying to get more money out of its postseason television contracts.
The question then becomes just how many games you play -- do the wild card teams play a one-and-done? Is that enough after a 162-game season? Does that put the teams at a disadvantage in the next round having burned its best pitcher, presumably for that game, while then getting ready for a best-of-five in the Divisional Series?
If you have a three-game wild card round, how far does that push back the Divisional Series and is that fair for those team waiting around for so long? And when does the World Series start and end? November?
The longer the games are pushed back, the more weather becomes a factor more than it needs to be in baseball.
As much as anything, it feels wrong. Of course, I didn't like the Wild Card when it was announced, so I could be wrong.
For more baseball news, rumors and analysis, follow @cbssportsmlb on Twitter or subscribe to the RSS feed.