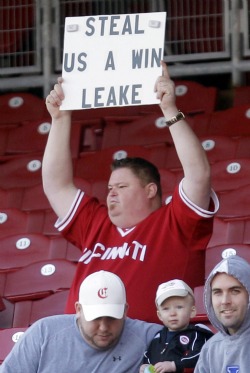 By C. Trent Rosecrans
Mike Leake made his first statements since his arrest on Monday, but only tangentially spoke about those charges of theft.
Instead, he talked about how important it was to get back on the mound on Thursday, when he picked up the victory in the Reds' 7-4 victory. Leake went seven innings, allowing four hits and three runs, striking out six and walking two.
"I'll be better once it's all done," Leake told reporters after the game. "But, right now, I've got to eat it and go out there and do what I can for the team. It was nice to go out there and erase some things and pitch."
There was a mixed reaction from the fans at Great American Ball Park. One sign in the stands said, "Mike Leake We Gave You The Bunt Sign Not The Steal Sign!" another asked Leake to steal the team a win. More meta hecklers wore Bengals helmets, noting the football team's reputation of mischief.
Leake acknowledge he was worried about how he'd be greeted on Thursday.
"A little bit," he said. "I was wondering if they were going to support me or not. For the most part, they were very nice."
Reds manager Dusty Baker said he was glad to see Leake react well.
"I had a hope and a prayer he'd respond," Baker told reporters, including the Cincinnati Enquirer's John Fay. "You really don't know, especially when a guy's young like that. He was really hurting for a few days there. I'm sure he still does and still will. I'm glad he responded the way he did. He needed it. We needed it."
For more baseball news, rumors and analysis, follow @cbssportsmlb on Twitter or subscribe to the RSS feed.