By C. Trent Rosecrans
There's something about knuckleballers that have always fascinated me. The pitch is so unpredictable to even the men who throw it, that it takes a special type of person and personality to succeed with the pitch.
Is it any doubt the first tell-all book in baseball -- the one that broke all the rules -- was written by a knuckleballer? Jim Bouton was different for a baseball player and his book, Ball Four, proved it.
Now, if you're a Mets fan, you probably have noticed that squad isn't playing too well. R.A. Dickey's noticed as well.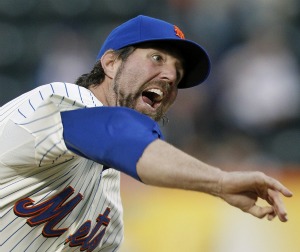 "We have to find a way to be honest with ourselves about what kind of team we are," Dickey told the New York Times. "We can't keep telling ourselves, 'Oh, we're a better team than this.' We may not be.
"We've got to be honest about that and identify what we're doing wrong and do it better. That's the only way you have any real growth. If we want to reach the destination that we have set out, then we've got to be honest with ourselves about how can we take more ownership and what's going on around us."
That's a pretty honest assessment, and in my gig, I admire honestly. I'm not so sure how Mets fans would feel about this. I didn't see much chatter about it on the Mets blogs I looked at, which I found odd, except that for the most part people were wondering if MLB would step in and take over the Mets, like they've done the Dodgers. (Remember Mets fans, the last time MLB took over a team completely, they put Omar Minaya in charge, so be careful what you wish for.)
Dickey wasn't just talking in broad strokes, he also called himself out, including his 14 walks in 26 1/3 innings. The Mets have walked 76 batters in 18 games, the second-most in baseball.
"Collectively, each one of us has to own what's ours to won," Dickey said. "As a staff, we've got to quite walking guys, all of us, period, myself included."
So what says you, Met fan? You like Dickey's talk or just want him to close his mouth and get someone out?
For more baseball news, rumors and analysis, follow @cbssportsmlb on Twitter or subscribe to the RSS feed.