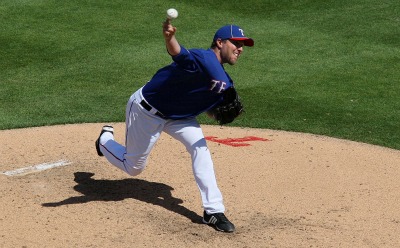 By Evan Brunell
In a spate of moves Wednesday, the Rangers purchased the contract of Brett Tomko from Triple-A, marking the veteran's return to the majors for the first time since 2009.
While the Rangers needed to make a move after Michael Kirkman blew up Tuesday by giving up six runs in 1 1/3 innings, is Tomko really the best choice? His career 4.65 ERA in the majors belies what has been a poor string of results for the former seventh-place finisher in Rookie of the Year balloting way back in 1997. Over his last three big-league seasons, Tomko has a 5.36 ERA split between the Dodgers, Padres, Royals, Padres again, Yankees and Athletics before battling a right shoulder strain to close the year.
And since then, Tomko hasn't shown anything of note. The right-hander bounced around Oakland's minor-league system last year, trying to recover from injury. Two starts in rookie ball netted him a 6.23 ERA while six apiece in Double-A and Triple-A left him with ERAs over 7.00, and in two starts for Texas' Triple-A team this year, he was at a tidy 6.35 ERA. Not exactly someone who inspires confidence.
Tomko will be pitching out of the bullpen for the Rangers and belongs in the long man role, but Dave Bush is currently handling that role and has nigh been a nonfactor. That means Tomko's probably occupying a middle relief role. It's possible his fastball could play better in relief after not starting, but there's simply nothing in Tomko's recent history -- or entire history, really -- to suggest he can be a solid reliever.
That said, Tomko's stay in the majors could be brief. If and when the club brings back Tommy Hunter and Scott Feldman (and who knows, maybe Brandon Webb will get in on the action as well) that should spell the end of Tomko -- and Bush, too.
For more baseball news, rumors and analysis, follow @cbssportsmlb on Twitter or subscribe to the RSS feed.