By C. Trent Rosecrans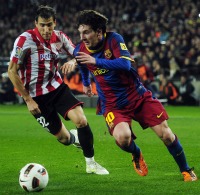 The Yankees are no longer the world's biggest sports mercenaries -- two soccer teams have passed the Yankees in average pay per player.
A review done by sportsintelligence.com, has Spanish soccer teams Barcelona and Real Madrid topping the Yankees in average pay per player. The Yankees' are the best-paying American franchise at more than $6.75 million per player, just ahead of the NBA's Lakers (approximately $6.5 million) and Magic (approximately $6.4 million).
Barcaelona's average player makes more than $7.9 million, led by Lionel Messi. Real Madrid plays its players an average of more than $7.35 million per year.
The Red Sox are the only other baseball team in the top 12 with an average salary of just more than $5.99 million per season. Half of the top 12 are soccer teams, two from Spain's La Liga, one from Italy's Serie A, two from England's Premier League and one more from Germany's Bundesliga.
The NBA has four of the top 12.
For more baseball news, rumors and analysis, follow @cbssportsmlb on Twitter or subscribe to the RSS feed.