By C. Trent Rosecrans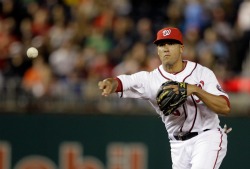 I wonder if Chelsea Desmond's wife has the number to the dugout phone in St. Louis? Because her call will determine how much her husband plays against the Cardinals in today's doubleheader and possibly tomorrow.
As soon as Desmond gets the call, he's going on paternity leave.
Luckily for the Nationals, Chelsea hadn't called by the third inning of the first game on Wednesday, when the team's shortstop had a two-RBI single as part of the six-run inning off of St. Louis starter Jake Westbrook.
Major League Baseball has added a 1-3 paternity list this season and Desmond is looking to take advantage of it when needed.
"It's going to be dependent on when he gets that phone call that says, 'You've got to get home," Nats manager Jim Riggleman told reporters, including Amanda Comak of the Washington Times. "It could be today, it could be a few days from now. … Depending on when he goes, who we're going to be playing against and what kind of pitching we'll face, we'll bring the necessary player up."
The Nationals have another day game on Thursday before going to Pittsburgh for three games. The team is off on Monday before starting a homestead.
Texas pitcher Colby Lewis was the first player to use the new personal leave in MLB last week when he joined his wife after the birth of their daughter last Wednesday. Lewis returned to pitch last night against the Angels and gave up four runs in five innings of a 15-4 Rangers loss.
For more baseball news, rumors and analysis, follow @cbssportsmlb on Twitter or subscribe to the RSS feed.