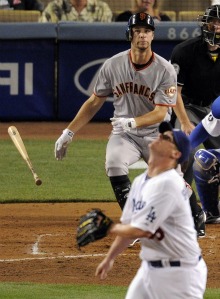 By C. Trent Rosecrans
Talk about a bad birthday -- Brandon Belt will celebrate his 22nd birthday today by going to Fresno.
With Cody Ross activated and in today's lineup against the Rockies' Jorge De La Rosa, the Giants had to make a move and it was the rookie first baseman who was optioned to Triple-A Fresno.
"Yeah, a pretty good birthday present," Belt told reporters, including Andrew Baggarly of the San Jose Mercury News. "I'm not taking it too bad. It's a numbers game now and I didn't exactly play great. It could be the best for everybody to get at-bats and be ready to contribute next time."
Belt struggled since singling in his debut and homering in his second game, hitting .192/.300/.269 overall, with just the one home run in 17 games and 60 plate appearances.
The 2009 fifth-round pick out of Texas established himself as a top prospect in his first professional season in 2010, hitting .352/.455/.620 with 23 home runs and 112 RBI at three levels in the minors. This spring Belt hit .282/.338/.479 with three home runs and 13 RBI in 71 at-bats making the team with the help of Ross' injured right calf.
Now with Ross back, Aubrey Huff will move to first and Ross will move into right field.
Huff was scheduled to get today's game off, but Pablo Sandoval is out with a minor right triceps strain and Huff will play first with Mark DeRosa moving from first to third to make up for Sandoval's absence. Huff was just sitting the day game after a night game, a common move for veteran players.
For more baseball news, rumors and analysis, follow @cbssportsmlb on Twitter or subscribe to the RSS feed.