By C. Trent Rosecrans
You don't have to tell
Rick Ankiel
that it's his first game back in St. Louis as an opposing player. Ankiel is so aware of the fact that he actually took out an ad in Wednesday's
St. Louis Post-Dispatch
thanking
Cardinals
fans for their "support and cheers over the years."
Here's a picture of the ad from Adam Kilgore of the Washington Post: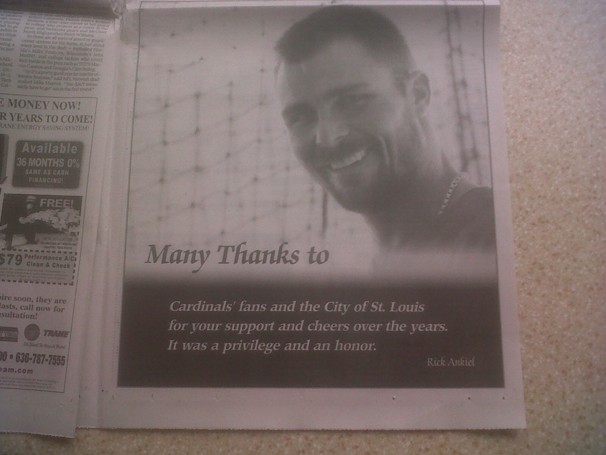 Ankiel said he remembered when Jim Edmonds did the same thing in his first game back in St. Louis in 2008 when he was a member of the Cubs.
"Remembering that, I was like, 'Man, what a good idea, and what a great way to give my appreciation,'" Ankiel told the Post. "I made some phone calls and made it happen."
Ankiel was the team's second-round pick in 1997 and was in the big leagues just two years later at age 19 as a reliever. In 2000 he was a starter and finished second in Rookie of the Year voting before losing his control, throwing nine wild pitches in four innings in the 2000 playoffs. He continued to struggle until he ultimately came back as a full-time hitter in 2007 and then he hit 35 home runs in 2008 as a full-time outfielder.
He left following the 2009 season, spending last season in Kansas City and Atlanta before signing with the Nationals as a free agent this offseason.
Like most former Cardinals, he will be greeted warmly by Cardinals fans even though he's wearing another uniform, but now the fans have even more reason to do so.
For more baseball news, rumors and analysis, follow @cbssportsmlb on Twitter or subscribe to the RSS feed.