By C. Trent Rosecrans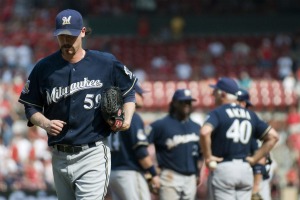 As we're getting deeper into the first month of the season, some of the "small sample size" arguments are losing their luster and managers are getting itchy. There's no position in baseball that causes more consternation than the closer's spot -- and few are easier to change.
On Tuesday, Cardinals manager Tony La Russa said Ryan Franklin was out as his closer, joining Ozzie Guillen and Ron Gardenhire in making changes in closers already this season, a common April occurance.
Here's a look at where all the closers in baseball stand at this moment:
Out -- Ryan Franklin (Cardinals), Joe Nathan (Twins), Matt Thornton (White Sox).
We won't know who the replacement for Franklin is until it comes to a save situation (Matt Snyder took a look at who may get the call -- and I'll agree that Mitchell Boggs gets the first shot) and even then, we'll have to have a few save situations until we get there.
Matt Capps has taken over for Nathan, who is not back 100 percent from Tommy John surgery, in Minnesota.
Thornton may get the call if the White Sox get in a save situation, but Ozzie Guillen has no confidence in anybody in his bullpen and has said he just doesn't have a closer.
Hanging by a thread -- John Axford (Brewers), Sean Burnett (Nationals), Kevin Gregg (Orioles).
Axford (pictured) started his season off by blowing a save in Cincinnati and added another Monday night. He's struggled with his command this season, but the Brewers don't have too many better options.
The Nationals have gone from no closer, to Burnett back to no set closer. After Burnett blew a save on Friday, Drew Storen closed with two innings on Sunday against the Brewers. The two are expected to share the job, but Burnett's not "out" because he's still half in.
Hand wringing -- Jonathan Broxton (Dodgers), Joakim Soria (Royals), Francisco Rodriguez (Mets).
These are three marquee names, but there's plenty of worry surrounding the trio.
Soria has struggled and has a 5.59 ERA, blowing one save, while Broxton hasn't blown a save, but has given up plenty of runs. He has an ERA of 6.14 and his manager's vote of confidence.
K-Rod, well, he's got plenty of issues, including a contract with a vesting option that the Mets aren't really interested in seeing him meet. That said, it's not like he's getting a lot of chances to close out Met victories for the team with the National League's worst record.
Nobody's perfect -- Brian Fuentes (Athletics), Carlos Marmol (Cubs), Jon Rauch (Blue Jays).
Rauch has been good, converting all three of his saves this season, but the return of Frank Francisco complicates things for him in Toronto.
Solid -- Mariano Rivera (Yankees), Heath Bell (Padres), Neftali Feliz (Rangers), Huston Street (Rockies), Joel Hanrahan (Pirates), Leo Nunez (Marlins), Chris Perez (Indians), Brian Wilson (Giants), Craig Kimbrel (Braves), J.J. Putz (Diamondbacks), Jose Contreras (Phillies), Jose Valverde (Tigers).
Sure, Rivera blew a save last night. I think Joe Girardi may give him another shot.
If a save falls in a forrest -- Francisco Cordero (Reds), Jonathan Papelbon (Red Sox), Brandon Lyon (Astros), Brandon League (Marienrs), Kyle Farnsworth (Rays), Jordan Walden (Angels).
If the rest of the closers are in a "small sample size" argument right now, these guys have a "tiny sample size."
For more baseball news, rumors and analysis, follow @cbssportsmlb on Twitter or subscribe to the RSS feed.