By C. Trent Rosecrans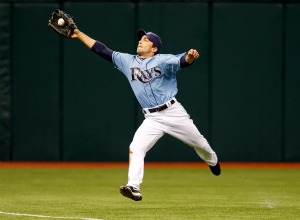 Now even Joe Maddon has gotten caught up in the Sam Fuld excitement.
Tuesday he was asked about Fuld's defense compared to Carl Crawford's, and here's what he said, according to Marc Topkin of the St. Petersburg Times:
"There's no drop-off. … Sam's playing that level of defense right now. he throws the ball better. All the different things he's doing defensively, I can't tell you that Carl's better. I can not."
Maybe right at this moment, but there's something to be said about proving defense over a little bit of time. Fuld has 15 career starts in left field and 40 overall in the big leagues. He may be playing well right now -- and he could be excellent -- but Crawford has proven himself a superior defensive outfielder throughout 1,143 games started in left field in the big leagues. Not only did he win the Gold Glove last season, he's also led all outfielders in plus/minus and defensive runs saved over the last three seasons.
Defense is best judged over time, even the best metrics we have now, like UZR and plus/minus, are best over at least three seasons of data -- 15 games is impressive, but it's hardly enough to judge.
Also notable, Fuld does have an error this season and Crawford does not.
For more baseball news, rumors and analysis, follow @cbssportsmlb on Twitter or subscribe to the RSS feed.