By C. Trent Rosecrans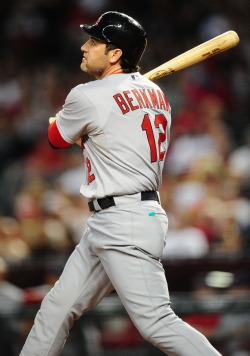 Maybe Lance Berkman can talk to Red Sox fans. After the Cardinals started 2-6, the veteran spoke to his teammates about their slow start and told them not to panic. Since then, St. Louis is 6-2 and just a game out of first place in the National League Central.
"I do think more than anything else, I just didn't want anybody to be shellshocked," Berkman told Joe Strauss of the St. Louis Post-Dispatch. "That was the feeling I got. That can happen when things don't go well, particularly when crazy things start happening and you're getting 'walked-off.' I just wanted guys to know this was a fluky thing. It wasn't to keep happening. There was no reason to get that deer-in-headlights look. We've still got a job to do."
Berkman was a member of the 2005 Astros who went on to the World Series after starting 13-23, so he's seen slow starts before and knows not to overreact. Berkman's Astros started 0-8 last season and where 36-53 at the All-Star break, but 40-33 after the break (some of that without Berkman, though).
Of course, it also helped that Matt Holliday returned the next day. In St. Louis' first eight games, the team hit .216 with a .581 OPS, in its last eight, it hit .353 with a .985 OPS.
Talking to a pitcher the other day, he said the Pujols-Holliday-Berkman trio was enough to keep him up at night --- "any one of those three can be a No. 3 hitter."
Berkman's also backed up his words with his play, in the Cardinals' first eight games, he was hitting .214.290/.286. In the six games he's played since, he's hit .417/.462/1.167 with six home runs. What makes that stretch even more impressive is that his batting average on balls in play is just .286 in those games.
Holliday's been in all eight games since returning from his appendectomy on April 10, hitting .400/.526/567. He hasn't homered, but he has hit five doubles and accounted for 7 RBI. He is getting a tad lucky -- despite the appendectomy -- with a .571 batting average on balls in play, an abnormally high number, so don't expect him to be hitting .400 all season, but who did?
On the other hand, Pujols has been below average -- by Pujols' standards -- during that stretch, hitting .297/.316/.568 in the last eight games. That's better than his first eight games (.167/.257/267) and should only get better as the season progresses. That's pretty good news for the Cardinals as they start a six-game homestand tonight starting with three against the Nationals, followed by three with the Reds.
For more baseball news, rumors and analysis, follow @cbssportsmlb on Twitter or subscribe to the RSS feed.