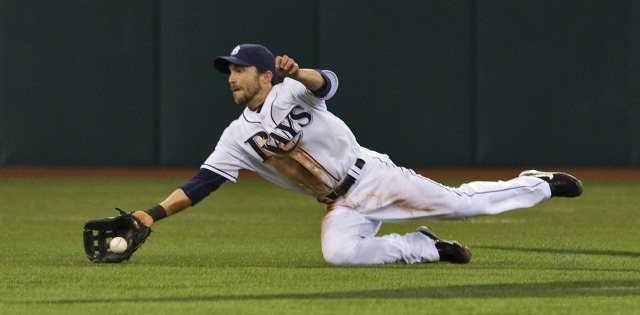 By C. Trent Rosecrans
One of the best parts of any new season is seeing players reach their potential -- or in
Sam Fuld
's case, exceed it.
With a 4-for-4 performance in Monday's win over the White Sox, Fuld is now the American League batting leader, hitting .396. And he made another fantastic catch, as you can see above.
Fuld was acquired in the deal that sent Matt Garza to the Cubs this offseason and learned a little bit about playing at Tropicana Field with his diving catch in the third inning on Tuesday.
"It felt like someone took a blow torch to [his left hand], and then I look at it and then there's nothing to show for it, no blood," Fuld told reporters, including the Tampa Tribune's Roger Mooney. "Now I know what turf burn is like."
Replays showed starter David Price screaming and clapping his hands after the play, which helped him win his first-ever victory over the White Sox.
The Rays are giving out a Sam Fuld cape later in the season, but it doesn't appear he needs one.
BASEBALL TODAY -- Lauren Shehadi and I talk about the Rockies pitching Cardinals offense.
FASTEST GUN IN THE MIDWEST -- There's little debate now, the gun at Great American Ball Park is juiced.
On Sunday, it had Pirates closer Joel Hanrahan throwing 102, while Pitch F/X had him hitting 98. On Monday, the scoreboard showed Aroldis Chapman hitting 106, when Pitch F/X showed his third pitch to Andrew McCutchen as "just" 102.4.
Last year I had scouts tell me the gun was pretty accurate, but apparently the excitement around Chapman got the Reds greedy, amping up the radar gun. If he does hit 105 mph again, will it say 110 on the scoreboard? Maybe the gun will make Bronson Arroyo feel better about his heater. [MLB.com]
GOOD SEATS -- Nate Schierholtz's brother was sitting 10 feet from where his mammoth shot landed in the third deck at Coors Field, and paid the guy who caught it $25 bucks to get the ball. [San Jose Mercury News]
STREET WATCH -- Rockies manager Jim Tracy is keeping a close eye on closer Huston Street, who hasn't pitched more than two days in a row this year, but has pitched in 10 of the team's first 15 games. [MLB.com]
AXFORD STRUGGLES -- Brewers closer John Axford had another bad outing on Monday, blowing a 3-2 lead in the ninth of an eventual 12-inning Milwaukee victory. The issues has been control, but manager Ron Roenicke said he's not concerned or thinking about any kind of change. [Milwaukee Journal Sentinel]
AND I WANT TO BE COMMISSIONER -- Royals designated hitter Billy Butler said he still wants to play first base. Manager Ned Yost's response? " You know what, I'd like to be an astronaut -- and for some reason they just won't let me." With Kila Ka'aihue is manning the spot until Eric Hosmer comes in to take it for good. [Kansas City Star]
BRING AN UMBRELLA -- Weather has been bad all around baseball early this season, although attendance hasn't been hurt too much. [Associated Press]
GOOD JOBA -- Joba Chamberlain's velocity is down, but his results are up. His slider has become a good pitch, helping his results. [New York Daily News]
NICE SHOT -- Ryan Raburn's pop foul in the first inning on Monday was the first-ever ball to hit the roof at Safeco Field. [MLB.com]
PLENTY OF GOOD SEATS AVAILABLE -- The Mets' bad start is good if you're looking for bargain shopping on the highest-priced seats at Citi Field. [New York Times]
RIOS AILING -- Alex Rios will be getting a break in the White Sox's series with the Rays to try to help his sore left toe fully heal. Rios said the toe has been hurting him for the last five years, so it's doubtful a simple day off will cure him. [Chicago Tribune]
AARDSMA TAKING THE HILL -- Mariners closer David Aardsma is expected to pitching tonight in Triple-A, his firs tame action since his hip labrum surgery in January. The Mariners will likely wait for him to throw three or four games in the minors before taking him off the disabled list. [MLB.com]
MORE SURGERY FOR ZUMAYA? -- The Tigers put Joel Zumaya on the 60-day disabled list and another surgery is possible on his right elbow. [Detroit Free Press]
NICE CATCH -- David Wright played catch with some young fans at Turner Field the other day. Pretty cool stuff. [Big League Stew]
NEW DUCKS UNIFORM -- The Oregon Ducks have added an orange jersey? Orioles pitcher Jeremy Guthrie models the newest Oregon uniform combo. [WhoSay.com/JeremyGuthrie]
VIN SCULLY ON 42 -- Dodger Gene Hermanski had the idea of everyone wearing No. 42 way back in 1948, Vin Scully said. [Sons of Steve Garvey]
TROP VETERAN -- White Sox rookie Chris Sale recalled going to the first-ever Tampa Bay (Devil) Rays game in 1998 when he was 9. [Chicago Tribune]
NOTHING BREWING IN MINORS -- According to the latest Baseball America, the Brewers have the worst minor-league system in baseball. After trading away Brett Lawrie, Jeremy Jeffress and Jake Odorizzi this offseason, their top-ranked prospect is right-hander Mark Rogers -- the team's first-round pick in 2004. On Monday, Rogers lost to former Brewer starter Jeff Suppan in a Triple-A game. [Milwaukee Journal Sentinel]
MINOR LEAGUER HIT IN HEAD -- Eric Hurley, a right-hander with the Rangers' Triple-A team, was hit in the right side of the head in a game against New Orleans on Monday. Hurley, 25, didn't lose consciousness and was taken to a nearby hospital. He left the field over his own power. [ESPNDallas.com]
THROWBACK THURSDAY -- Not only will the Dodgers be breaking out their new throwback uniforms against the Braves on Thursday, Atlanta will throw in throwback duds. No word yet on which Braves throwbacks we'll see. The Dodgers are wearing 1940s-era blue satin-like unis. To announce the promotion the Dodgers sent out a press release on Brooklyn Dodgers letterhead (or maybe the ownership ran out of their regular letterhead and had to find some at the back of the closet instead of ordering new stock.) [Atlanta Journal-Constitution]
TODAY IN GLUTTONY -- The Akron Aeros have introduced a helmet sundae. No, not a mini-helmet sundae, a full-sized helmet sundae. [Akron Aeros]
For more baseball news, rumors and analysis, follow @cbssportsmlb on Twitter or subscribe to the RSS feed.