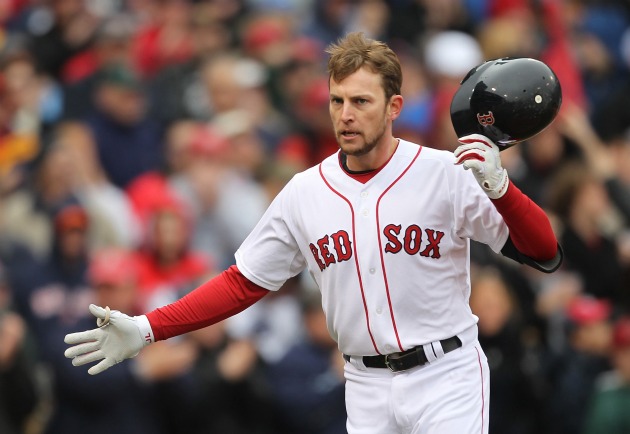 By Evan Brunell
After a four-hit day, Jed Lowrie has to be the new starting shortstop for the Red Sox, right?
Maybe.
There's no question Lowrie is off to a scorching start, as his .516 batting average in 31 at-bats shows. He's also contributed four extra-base hits and has provided steady defense. For at least the next few games, Lowrie will have a chance to wrench the starting job away from Marco Scutaro, who has started the season slowly.
Even the caveat of small sample size for Lowrie doesn't quite apply, as Lowrie ended 2010 turning heads upon his return from mononucleosis. Once a promising player who looked as if he could be a solid utility fielder, Lowrie has instead cut down on his strikeouts and juiced up the power unexpectedly. Lowrie's debut in the majors four years ago wasn't quite representative of his power stroke as he was still working through a wrist injury that cost him most of 2009. However, no one could have anticipated this much power for Lowrie.
All told, since last July 21, when Lowrie returned to the Red Sox, he's hitting .322/.404/.564 in 230 plate appearances.
Impressive? You don't know the half of it. Using the Day by Day Database at Baseball Musings for data through Sunday night, it's revealed that Jed Lowrie has been the second-most productive shortstop (according to the traditional slash stats) since his return from mono. Yes, that's right, Lowrie ranks ahead of such luminaries as Hanley Ramirez. The only person to best Lowrie is Troy Tulowitzki and his insane .331/.407/.672 line.
So will Lowrie continue to start? Of course, but if he tails off, the door will be wide open for Marco Scutaro to stroll right on through. You see, despite Lowrie's hitting, Scutaro possesses the better glove according to scouts and statistically, is Scutaro's equal, at best. Given shortstop is perhaps the most valuable defensive position, Scutaro's going to get his crack at getting his bat going to impact the game on both sides of the ball. Lowrie isn't a butcher in the field, though, so Scoot's going to have to really step up his game, but will get plenty of chances to do so.
Scutaro remains the starting shortstop even if it's name only, and that's an important distinction to make in Boston. Manager Terry Francona is the type of manager who is slow to make moves in the regular season even as the Red Sox have scrambled to get their house in order after a brutal 2-10 start. He's going to want to get Scutaro plenty of playing time because it will only improve the club, even if Scutaro stays in a utility role. That's why the club's departure on a West Coast trip comes as quite good timing -- Francona can start Scutaro over Lowrie without risking the ire of impatient fans.
But in case it hasn't been made apparent yet, Jed Lowrie is the future at shortstop, at least of the short-term variety. There's certainly a big question as to whether he will remain the future, as top prospect Jose Iglesias could be ready to start as early as 2012. That's a problem the Red Sox would love to have.
For more baseball news, rumors and analysis, follow @cbssportsmlb on Twitter or subscribe to the RSS feed.