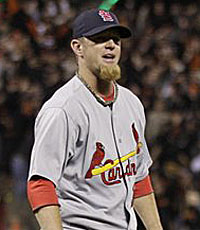 By Matt Snyder
When
Matt Kemp
's ninth-inning home run cleared the center-field wall in Dodger Stadium Sunday, it marked the fourth time in five tries
Cardinals
closer
Ryan Franklin
had blown a save. Sure, it was a pretty questionable way for Tony La Russa to deal with the ninth inning -- in that he insisted on using a left-hander against
Andre Ethier
(who doubled) and then pitched to one of the hottest hitters in baseball with first base open -- but the blown save from Franklin has been a troubling early trend for the Cardinals.
Considering Franklin is 38, he could be in a natural regression due to age. Considering he's been awful thus far in the season, coughing up eight hits -- including three home runs -- and six earned runs in 4 2/3 innings, it's entirely possible his confidence is shot as well. That matters for all baseball players, but with a closer it's paramount. If he doesn't feel like he's going to mow down the opposition every time out, that's an issue.
Regardless of why, the combination of underperformance, age and a possible lack of confidence have forced the Cardinals to make a change. But where to turn? Let's rundown the options.
Mitchell Boggs
- In the very small sample we've had thus far, he's been the best pitcher in the St. Louis bullpen. Boggs has a 2.00 ERA and 0.67 WHIP in nine innings. Even more importantly, he's struck out 12 hitters while only walking three. On the flip-side, his history suggests the strikeout rate comes down a bit and he's not been used in as many high-leverage situations as some of the other guys. But, hey, you gotta start sometime. Can't figure out if he's a realistic option without trying it.
Miguel Batista
- He does have 41 career saves, but the lion's share of those came his one season as a full-time closer -- when he saved 31 games back in 2005. Still, it's experience in the role, and he's thrown the ball very well this season -- 1.29 ERA in seven innings. The downside is that he's 40 and his rate stats (like six hits in seven innings) suggest he's going to start allowing runs sometime soon.
Trever Miller
- He's a lefty, so there's no way La Russa would give up one of his most beloved pastimes -- playing matchups with his bullpen. Therefore, Miller's not an option.
Jason Motte
- The 28-year-old righty fits the part, as he throws hard and struck out more than a batter per inning last season. He had a 2.24 ERA and 1.13 WHIP in 52 1/3 innings. This season, he's thrown seven innings and given up just two earned runs (2.57 ERA). He has walked too many and struck out too few, but it's a small sample. I'd give him a shot.
La Russa has now removed Franklin, even if it's only temporary. If they do, Motte seems the best-suited candidate, while they should probably keep Boggs as a put-out-the-fire guy. However, most speculation from across the writing community seems to think Boggs will get the shot. We'll find out whenever the Cards get another save chance.
For more baseball news, rumors and analysis, follow @cbssportsmlb on Twitter or subscribe to the RSS feed.