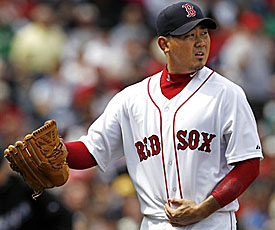 By Matt Snyder
As
Daisuke Matsuzaka
took the mound in Boston Monday morning -- isn't that really weird to say? -- on Patriots Day, he was greeted with boos from the Fenway faithful. And why not? He'd been downright brutal thus far in 2011 after lackluster seasons in 2009 and 2010.
Entering the game Monday, Dice-K had a line that showed an 0-2 record with a 12.86 ERA and a 2.71 WHIP. He'd labored just to get through the seven innings he did complete in the two starts, and was racking up far too many pitches early in the game -- leading to taxing the bullpen. All this from a guy making eight figures a year.
Monday couldn't have been more different.
Matsuzaka worked seven innings, only allowing one hit (a single) and one walk. His ERA and WHIP were trimmed all the way to 6.43 and 1.50. But the major stat-lines were not what was most impressive. It was the efficiency. Something Dice-K's rarely done even in good seasons. He needed just 89 pitches to get through the seven innings. He threw 58 strikes to 31 balls. He only struck out three guys, which isn't really anything to be excited about, but it showed a willingless to allow the opposition to put the ball in play. He trusted his defense. That's one of the big problems that has been noticable for Dice-K the past two-plus seasons, in that he seems to try and be so fine in an attempt to strike guys out and instead can't throw enough strikes.
We can't stress enough that it was just one outing. Next time out, Matsuzaka could easily regress back to what he's been for quite a while. Still, it has to be an encouraging outing for the
Red Sox
, who have know won three in a row for the first time in 2011.
If nothing else, at least he was able to get rid of the boos, much to the joy of third baseman
Kevin Youkilis
.
"One thing that was a little shocking was before the game he got booed," Youkilis said. "It's funny how he came off the field, everyone was cheering. It's kind of foot-in-the-mouth right there but it's good how he responded to that, too." (
WEEI.com
)
For more baseball news, rumors and analysis, follow @cbssportsmlb on Twitter or subscribe to the RSS feed.