By Evan Brunell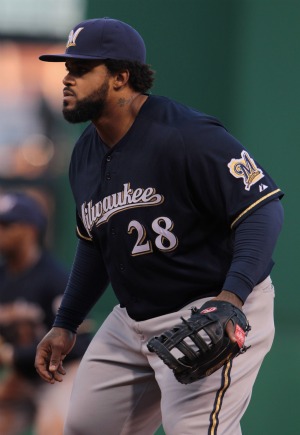 New manager Ron Roenicke has brought a new twist to the proceedings in Milwaukee, with his constant defensive shifts the talk of baseball.
Roenicke was in charge of evaluating the opponents' spray charts during his time as Angels bench coach. The spray charts revealed tellingly where hitters usually put balls in play and upon being named to helm Milwaukee, told his coaching staff that he planned to utilize defensive shifts more often.
No one could have envisioned how far Roenike would go, however, as defensive shifts are used on a nightly basis.
"We're playing the percentages," Roenicke told the Milwaukee Journal-Sentinel. "We're looking at spray charts, seeing where guys hit the ball. ... It's up the middle that's the big part. Guys hit a lot of balls up the middle, and I want that covered if I can. ...
"It's always bothered me when, say, a right-handed hitter hits one ground ball to the right side and he hits 60 ground balls to the left side, why are we playing two guys on the right side? It makes no sense to me."
Prince Fielder is certainly no stranger to defensive shifts, as he routinely has to deal with three infielders on the right side of the diamond.
"As a hitter, it's frustrating at times. Now that I'm used to it, I don't let it bother me. I used to. But what can you do about it? It's going to be around the rest of my career," Fielder said. "[We] might get beat sometimes, but more often than not when they put on the shift I hit it to where they are. There's not many times I hit a ground ball right where the shortstop should be," he added, clearly believing that shifts are the way to go.
The Brewers have already been beat thanks to the shift, however. On Friday night, Wilson Ramos knocked a single through the right side in the second inning, which ended up being pivotal in an eventual 4-3 win for the Nationals. However, the occasional loss doesn't outweigh the overall benefits of taking hits away on a regular basis. After all, losing thanks to the shift stands out more than winning thanks to the shift as you can't easily point to a certain situation that changed the complexion of the game thanks to the shift.
"I've seen Vladimir Guerrero, for so many years [opponents] over-shift and take base hits away from him," said Roenicke, who used infield shifts against four Washington hitters Friday night. "And now with Prince, so far in spring training and [the regular season], they take a lot of hits away because they over-shift," Roenicke said. "In that inning [Friday], it hurt us on the catcher's ball. I don't know if he was trying to go that way. It looked like he was.
"But, so far, it has really helped us."
For more baseball news, rumors and analysis, follow @cbssportsmlb on Twitter or subscribe to the RSS feed.