By C. Trent Rosecrans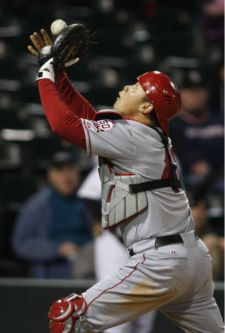 Angels rookie catcher Hank Conger wasn't the only person surprised on Saturday when he walked into U.S. Cellular Field and saw his name in the lineup for the third day in a row and sixth time in 14 games. Veteran Jeff Mathis noticed as well, and he reportedly had a closed-door meeting with manager Mike Scioscia before the Angels' 7-2 victory over the White Sox.
Mathis then refused to talk to reporters after the meeting.
Conger, though, continued to show why he's in the lineup, going 2 for 4 with a three-run homer and a double in the win. So far this season, he's hitting .286/.375/.619 with two homers in 21 at-bats.
"[Playing time] has been a little bit of a surprise," Conger told the Orange County Register's Bill Plunkett. "As long as I'm here, I just want to make the most out of my opportunities and make sure I'm prepared to play every day."
Out of spring training, Conger was one of three catchers the team kept along with Mathis and Bobby Wilson. Conger, 23, said he expected to be sent back to Triple-A Salt Lake after right-hander Joel Pineiro was eligible to come off the disabled list. Instead, the team kept the switch-hitting Conger.
Scioscia said Conger hasn't won the No. 1 catching spot yet.
"No. Getting a look," Scioscia said. "We're looking for solutions to what was really a rough offensive year for us last year."
The team did trade away a good-hitting catcher in Mike Napoli (26 home runs last season) during the offseason, but Scioscia was not a fan of Napoli behind the plate. So far, he's been impressed with Conger's catching. Conger hit .300/.385/.463 at Triple-A Salt Lake last season. Mathis, 28, is hitting .192/.185/.423 with a home run in 27 at-bats. Wilson, 28, has a single in seven at-bats in his two starts.
Scioscia said the team may keep three catchers for a while, even with shortstop Erick Aybar eligible to come off the disabled list on Monday.
"Right now, it still feels like nothing's really established," Conger said. "You have to perform whenever you get an opportunity. I'm definitely thinking that way, especially after [relievers Kevin Jepsen and Micahel Kohn] going down [to Triple-A].
"Nothing is set in stone. Ever."
Mathis is figuring that out himself.
For more baseball news, rumors and analysis, follow @cbssportsmlb on Twitter or subscribe to the RSS feed.