By C. Trent Rosecrans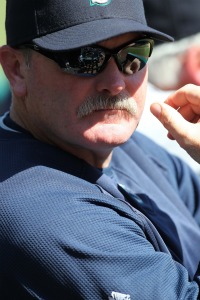 Mariners manager Eric Wedge isn't too happy with his team. At 4-11 and losers of 11 of their last 13, there's little for him to be happy about.
"That's the problem, it's the same thing, different day and it's unacceptable," Wedge said after the game, according to Geoff Baker of the Seattle Times. "We're not going to keep watching this. We're going to get better and we're going to address it, obviously, as we've been doing as a team and individually, but we're going to get better. We're not going to keep doing what we've bending here."
Wedge, in his first year with the Mariners, was asked what he could say to the players.
"You're doing the work, but ultimately you've got to take it into the game," he said. "I want them to have the mindset that's aggressive and such to where we're up there ready for anything. Anything and everything. Whether it be at home plate or out in the field or wherever it may be. I don't what to be in-between. In-between doesn't win ballgames."
Neither does averaging nearly an error a game (13 in 15 games), including two on Saturday, nor does going 0 for 9 with runners in scoring position as Seattle did against the Royals.
Wedge said we wouldn't share exactly what he said to his players, but it's fair to say it wouldn't be found on a greeting card.
"I had a few choice words for them," Wedge said. "I'm not real happy right now. I made it real clear how we're going to go about our business here."
The Mariners are last in the American League in team batting average (.214), next-to-last in slugging (.312) and 10th in OBP (.299). They're also next-to-last in the American League in team ERA at 4.89 and have allowed a league-high 82 runs and also have a league-high 13 unearned runs. Only two American League teams have committed more errors than the Mariners' 13.
In short, they're not very good.
Speeches are nice and they're fun, but it's not going to change much for the Mariners this season, there's just not enough talent on the team to be competitive. But at least Wedge has an awesome mustache. Maybe he should give his team Ron Swanson's Pyramid of Greatness.
For more baseball news, rumors and analysis, follow @cbssportsmlb on Twitter or subscribe to the RSS feed.