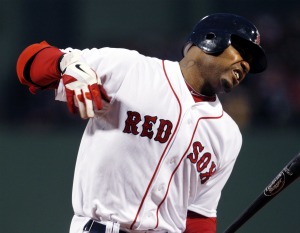 By C. Trent Rosecrans
Carl Crawford is getting a day off today against the Blue Jays.
"I think he really want to play, which we like," Red Sox manager Terry Francona told reporters, including the Boston Globe's Peter Abraham on Saturday. "But I think it will do him more good to take a little bit of a breath this morning and just let things slow down for him. There's no doubt in anybody's mind, this guy is going to be everything everybody thinks. He's too good. He's going through a really tough time."
Crawford is hitting just .137/.185/.157 in his first 12 games of his seven-year, $142 million contract.
Crawford said he understands that he's probably trying too har dand putting too much pressure on himself, which is leading him to being anxious at the plate.
"You look up there and you see that 1-something average," Crawford said. "You try and get it all in one at-bat," Crawford said. "I've got to take it one at-bat at a time, take it one pitch at a time and go from there."
Francona had wanted to wait until Monday to give Crawford the day off, but with a left-hander on the mound for the Jays (Jo-Jo Reyes), he chose to sit him on Saturday.
For more baseball news, rumors and analysis, follow @cbssportsmlb on Twitter or subscribe to the RSS feed.