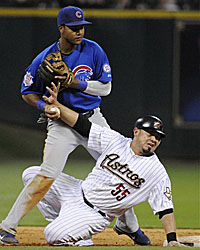 By Matt Snyder
Despite the fact that the
Cubs
have three second basemen on the roster, 25-year-old
Darwin Barney
has gotten the majority of the plate appearances thus far. He's made them count, too. The rookie is currently hitting .345 with a .394 on-base percentage. In 29 at-bats, he's only struck out once.
If the Cubs are excited about the prospects of Barney being the long-term answer at second, they're downright giddy about the other member of the middle infield.
Starlin Castro
opened the season as the youngest player in the majors (21). He's started the season even better than expected, as he leads the Cubs in average, hits, runs, triples and stolen bases. Even most of the outs he makes are hit really hard.
Each have displayed good range defensively and they seem to work really well together on double plays -- an errant feed by Barney earlier this week notwithstanding.
More recently, Cubs' skipper Mike Quade has taken to using Castro leadoff and Barney second in the batting order. He likes what he sees.
''I would love that,'' he told the
Sun-Times
on the prospects of the two going 1-2 in the order long-term. ''I like the two kids at the top. They're having fun. They're playing well. If they happen to set the table, it's pretty good behind them.''
The mix the Cubs currently have doesn't exactly have many leadoff options, in terms of high-OBP guys who take walks and steal lots of bases. Castro has only walked twice in 56 plate appearances and seems to fight off any pitch, no matter where it is, during many at-bats. But if he continues to scorch the ball at the pace he is, he's a fine option atop the order.
Team that with Barney -- both are currently around .400 on-base percentage -- and the table is getting set quite frequently for the middle of the order.
It's something that could be said for years to come, as the two continue to develop and get more comfortable at the major-league level. Not only could the duo comprise the middle of the defense and the top of the order for years to come, but they should help curb general manager Jim Hendry's penchant to overpay when filling holes.
For more baseball news, rumors and analysis, follow @cbssportsmlb on Twitter or subscribe to the RSS feed.