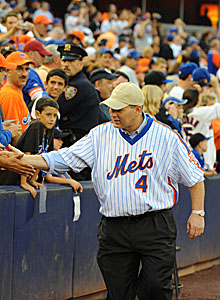 By Matt Snyder
Former
Mets
and
Phillies
star Lenny Dykstra was arrested Thursday night at his home in Encino, Calif. He has been charged by U.S. prosecutors with bankruptcy fraud, which is embezzling from a bankruptcy estate. If convicted, he'd face a sentence of five years, maximum, in federal prison.
He was actually arrested on a separate investigation -- for grand theft -- and remains jailed without bail. It is still unknown whether or not he's hired legal representation.
Dykstra, 48, was initially a very successful businessman upon retiring from baseball, notably in the stock market on Wall Street. Obviously, things have significantly changed in the past two to three years. Upon filing for bankruptcy in 2009, Dykstra said he owed over $31 million but only had about $50,000 in assets.
A statement from the prosecutor's office was issued via press release and added the following:
The federal charges stem from a bankruptcy case that Dykstra filed on July 7, 2009. The criminal case filed in United States District Court alleges that Dykstra removed, destroyed and sold property that was part of the bankruptcy estate without the permission of the bankruptcy trustee.

According to court documents, after Dykstra filed for bankruptcy, he sold many items belonging to the bankruptcy estate for cash, as well as destroying and hiding other items. An attorney hired by the bankruptcy trustee estimates that Dykstra stole and destroyed more than $400,000 worth of property in the estate, according to the criminal complaint.

When Dykstra filed for bankruptcy, he listed two residences – a mansion in Lake Sherwood Estates purchased from Janet and Wayne Gretzky that he estimated was worth $18.5 million, and a home in Westlake Village that he estimated was worth $5.4 million. As a result of the bankruptcy filing, the residences and Dykstra's personal property became part of the bankruptcy estate that would be used to pay off creditors. Even though Dykstra was prohibited from liquidating any part of the estate, the investigation showed that:

About a month after filing for bankruptcy, Dykstra was paid cash at a Los Angeles consignment store for personal items, including a truckload of furnishings and fixtures that he had taken from the Lake Sherwood mansion; Dykstra admitted in a bankruptcy hearing to having arranged the sale of sports memorabilia and a dresser that were property of the bankruptcy estate; and Dykstra "ripped out" a $50,000 sink from his mansion and took granite from the mansion and installed it in an office he set up at the Camarillo airport after he had filed for bankruptcy protection.
Dykstra played 12 seasons in the majors, split between the Phillies and Mets. He was a three-time All-Star and finished second in MVP voting in 1993 -- he hit .305 with a .420 on-base percentage and scored 143 runs. He was 30, but unfortunately that was his last fully healthy season, as he only played a combined 186 games over the next three years before retiring.
For more baseball news, rumors and analysis, follow @cbssportsmlb on Twitter or subscribe to the RSS feed.