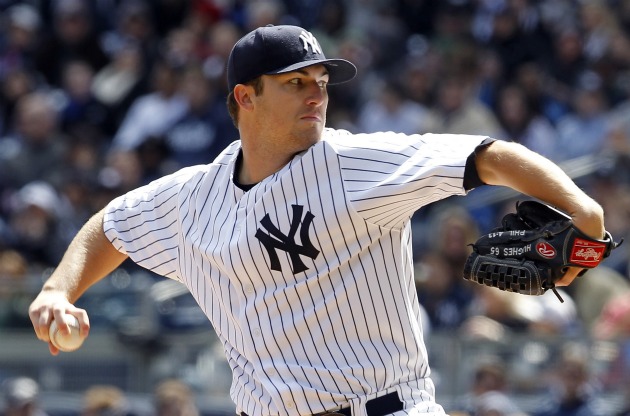 By Evan Brunell
"I can't keep going out there and digging us a hole," Phil Hughes said after his disastrous start Thursday in which he failed to make it through five innings yet again. Hughes was two outs away, but seven hits and five earned runs were too much to overcome even though he didn't walk anyone and added two strikeouts.
He won't have to dig New York a hole anymore as he has been placed on the disabled list, with reliever Lance Pendleton being promoted as Joe Girardi tells the New Jersey Star Ledger. They believe Hughes has a dead arm and needs to work through it.
Hughes' main problem, as has been well-documented this far, is a curious loss of velocity.
"I had a chuck-and-duck mentality out there," Hughes said to the New York Post, only illustrating how bad it's become. Hughes averaged 93.6 miles per hour on his fastball in 2009, when he pitched out of the bullpen. That mark dipped slightly upon his return to the starting rotation, which is not unheard of, finishing with a 92.5 mph mark. But this year, he's got a case of Javier Vazquez-itis as he's all the way down to 89.4 mph.
The Post's Kevin Kernan notes that Hughes' troubles stretch to last year, citing his 11-2 record with a 3.65 ERA prior to the All-Star break, with a 7-6 mark and 4.90 ERA after. Putting aside for the moment the fallacy of leaning on win-loss records to tell you something, the ERA disparity does. However, velocity is not to blame. While Hughes' was unmistakably worse in the second half as xFIP supports, velocity's not the issue. Check out Hughes' velocity chart over his career at Fangraphs, and you'll see his velocity was within normal range, as the chart reveals. (What may have been responsible was simply him tiring in his first full season, a spike in home run rates and a lower K/BB rate. You can't rule out an injury as well.)
Meanwhile, GM Brian Cashman and skipper Joe Girardi are on the same page in that Hughes simply has to pitch through it; it's the only thing that can be done.
"It's important to get depth from our rotation," Cashman said before the game. "Right now he hasn't been fully equipped yet because of lack of velocity. The only way to get through that is to pitch. It's a tightrope we're walking as we try to get his feet back on the ground. His history has been that his velo comes over time, so we're waiting on it."
Girardi concurred after the game. "He's still not right and it's our job to get him right," he said. "He's got to pitch to get things right, he can't just go on a sabbatical or something. We have off-days coming up, a lot of things we have to discuss."
As CBSSports.com's Danny Knobler notes, no Yankee since at least 1919 has ever started the year in the rotation and remained there after not going past five innings -- and now Hughes will continue that trend. Bartolo Colon will replace Hughes in the rotation.
"It's not my decision to make," Hughes Thursday night of what happens with him. "This is just something I've got to get through, hopefully it comes back overnight. Whatever it is, whether it is bullpen, minors, long toss, just whatever it is, I've got to make sure I do it."
The bullpen does have some appeal to it, as he could have stayed in the majors and work with pitching coach Larry Rothschild. The club could keep him stretched out as a long reliever but as Hughes notes, how is that a long-term solution?
"If I were throwing a lot of balls, that would be one thing," he said. "But me going down there and throwing as hard as I can, maybe for an inning that would be good, but I don't think that's necessarily a long-term solution."
And it's not, which is why Hughes is now headed to the DL, allowing the Yankees to send him to their spring complex to work on his arm and then send him on a rehab assignment. This will allow New York to give Hughes a few minor-league starts without needing to burn an option. The Yankees have a dire problem on their hands. They already had to deal with the risk Ivan Nova at No. 4 and Freddy Garcia at No. 5 brings. Now, without Hughes, the team is down to two proven pitches in CC Sabathia and AJ Burnett. And as everyone knows, Burnett is pretty good, but pretty inconsistent. Losing out on Cliff Lee has really presented a problem for New York.
For more baseball news, rumors and analysis, follow @cbssportsmlb on Twitter or subscribe to the RSS feed.