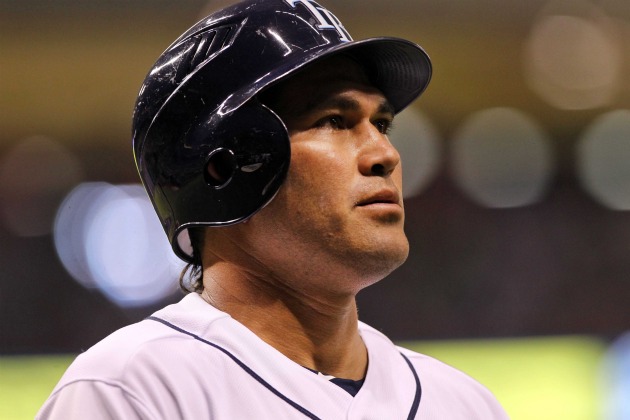 By Evan Brunell
While Johnny Damon is currently busy trying to get the Rays back to .500 (and helped that goal by bashing hit No. 2,581 for a walk-off home run Thursday night), he's also thinking about the Hall of Fame and what cap he would wear, pointing to the Royals. Yes, the Royals.
"Is it realistic? Yes," Damon told the Kansas City Star about making the Hall. "Is it the most important thing to me? No. The numbers would be great to attain, but I really don't know how many more years I'll play. If this is a rough year for me, I'm going home. If not, I'll keep getting after it."
Despite Damon's strong credentials, it appears as if though he'll need 3,000 hits to have a real shot at the Hall, given none of his other numbers stand out. To be steady for such a long time like Damon has requires a tremendous amount of durability, patience and talent. But Damon doesn't have enough star-power numbers to qualify for the Hall unless he cracks 3,000 hits which doesn't seem feasible.
"It stinks that [3,000 hits] might be my only chance, because I'm climbing the runs list, too," Damon said. "I think all of those years I did it quietly without really thinking about my numbers."
Damon currently has 2,581 hits, 487 doubles, 218 homers, 100 triples, 388 stolen bases and 1,568 runs scored. The run total is behind only Derek Jeter and Alex Rodriguez among active players and ranks 51st overall. That means Damon could become the first player to have 3,000 hits, 500 doubles, 100 triples, 250 homers and 400 stolen bases in baseball history.
Over his 17-season career, Damon has averaged 183 hits a season. If he can stay within that average, which would come out to a .287 career batting average, he would reach 3,000 hits sometime in 2013 -- provided he remained a starter. It's not impossible to envision that occurring, as despite his age, Damon is still a solid contributor with the bat and brings tremendous value to a club with his leadership.
If he does reach those numbers, the Hall would be a virtual lock. What's less of a lock is what cap he wears into the Hall of Fame. "I think it goes by the longest tenure, so it would be Kansas City," Damon told the Boston Herald.
Damon is actually incorrect, as players get input on what cap they will wear. In the past, players were able to choose but cannot any longer, thanks to the Wade Boggs contract clause with the Rays that stipulated he pick the Tampa Bay cap when entering the Hall despite just two years tenure with the club.
Damon doesn't have any particular team that jumps out for representation on his cap. You can rule out the Athletics and Tigers, as he only spent one year with those clubs. The Rays, likewise, can be ruled out because he is in the tail end of his career and won't have the impact he did on earlier clubs, plus it's difficult to see him starting for Tampa for four years.
That leaves a six-year tenure in Kansas City and two separate four-year stints with the Red Sox and Yankees. Despite spending six years with K.C., the club did not accomplish much in his time. No, the cap is likely going to come down to Boston and New York.
The case for Boston is that he was a cult hero with his Caveman-like beard, was an architect of converting the clubhouse from 25 cabs, 25 people to a tight-knit group and delivered a hit for the ages with his crushing blow against the Yankees in Game 7 of the 2004 ALCS when his grand slam sealed Boston's improbable comeback.
Of course, Damon is reviled in Boston these days as he once said he would never sign with the Yankees and then did so just months later. He would compound matters later by declining to be traded to the Red Sox late last season, but there has still been a noticeable thaw in treatment by Red Sox fans, if Tampa's two-game set last week in Boston was any indication.
Damon was a hit in New York as well, as he helped heal a fractured clubhouse and brought a World Series to town as an important top-of-the-order presence who also enjoyed some of his best power numbers thanks to the short right-field wall. But he didn't have the cult following as he did in Boston and while that World Series was much-welcomed by the city, an eight-year drought doesn't compare to excising an 86-year-old drought.
It's anyone's guess what hat Damon requests to wear, but if he requests the Royals, that will be enough to vault the club into contention with Boston and New York. The early money has to be Boston given he became a national name, a cult hero and an indelible part of Red Sox history.
Things could change if he returns to K.C., however. If Damon returned to town, that could push K.C. over the edge to represent Damon in the Hall if he was elected
"Kansas City is the team I grew up rooting for," Damon said. "I had almost six years there. I put up some good numbers. I'd love to end my career in Tampa, but if had to go back to Kansas City for a year to finish my career, I'd welcome that, too."
If Damon did return to K.C., even if it was just as a bench player to play his career out, it could be enough to get a Royals hat on Damon. But more importantly, Damon actually does appear as if he could be a great fit for a Royals squad that will be rather green the next few years. Damon has an impeccable reputation for his impact on keeping a team together and the clubhouse loose -- but also being extraordinarily professional with a strong work ethic and desire to win. All these traits would be incredibly valuable to a Royals team looking to integrate the game's best farm system into the majors over the next two-to-three years.
All that said, it's going to be very difficult for Damon to make the Hall of Fame, and unless he can last long enough to hit some significant milestones, will instead belong in the Hall of the Very Good.
For more baseball news, rumors and analysis, follow @cbssportsmlb on Twitter or subscribe to the RSS feed.